The Bay Glory
Updated: 2021-04-15 10:04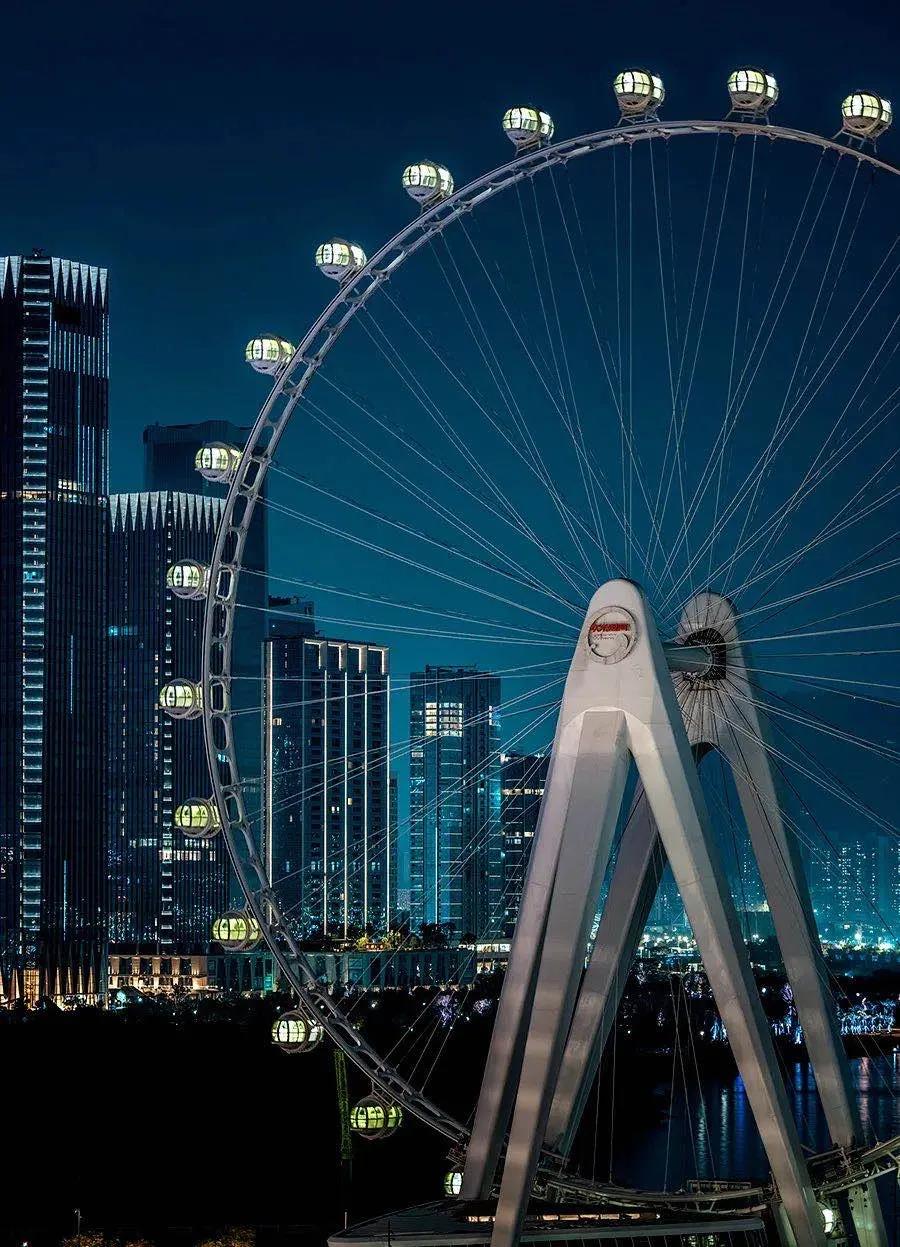 Photos from WeChat account "OCT-OH-BAY".
The Bay Glory, in OH Bay in Bao'an District, opened to the public on April 18.
There will be no ticket offices at the Ferris wheel as all the tickets are sold on OH Bay's WeChat account (OCT-OH-BAY). Click the "摩天轮" button on the menu of that WeChat account and then click "0元秒杀" to grab free tickets or "点我购票" to buy discounted tickets, or "拼团惠享" to enjoy a group-buying discount.
• Free tickets
At 12:08 every noon until April 17, limited free tickets will be rolled out. The tickets are valid April 18-30.
• Early-bird tickets
A regular ticket is 150 yuan for weekdays and weekends and 180 yuan for holidays but you can buy early-bird tickets at 128 yuan each now until April 17. The tickets are valid April 18-30.
• Concession tickets
Children between 1 meter and 1.4 meters in height and seniors aged 65 or elder can purchase concession tickets for 80 yuan each. Children shorter than 1 meter are free to enter and an adult can only bring one child with free admission. Disabled people can check the noted information on the ticketing page to see whether they can buy the 80-yuan tickets or enter free of charge.
• Group tickets
A group of 10 people can enjoy a 120-yuan ticket price for each member until April 17. The group can be formed in the online group-buying model within 24 hours. The tickets are valid April 18-30.
• Early-bird annual pass
A regular annual pass is 498 yuan but you can buy an early-bird annual pass at 365 yuan now until April 30. Once you activate the pass, you can take unlimited rides on the Ferris wheel for the next 365 days.
The Ferris wheel has a height of 128 meters and a diameter of 113.3 meters. It has 28 carts, each of which has a maximum capacity of 25 passengers. Tourists can view the scenery of Qianhai Bay in the 30-minute air tour on the Ferris wheel.
Hours: 10:30 a.m.-9:30 p.m. (Mon.-Fri.); 10:30 a.m.-10 p.m. (weekends and holidays)
Other things to do at OH Bay
• Water and light shows
Time: 7:30 p.m. (week nights); 7:30 p.m. and 8:30 p.m. (weekend and holiday nights)
Venue:Celebration Square (庆典广场)
• Music fountains
Time: 7 p.m. (week nights); 7 p.m. and 8 p.m. (weekend and holiday nights)
Venue: Celebration Square (庆典广场)
• Shopping and dining
Hours:10 a.m.-10 p.m. (Mon.-Thur.), 10 a.m.-10:30 p.m. (Fridays, weekends, holidays)
Venue: East Bank Commercial Block (东岸商业街区)
Add: OH Bay, Bao'an District (宝安区欢乐港湾)
Metro: Line 5 to Linhai Station (临海站), Exit B2
---