Xiaomeisha Sea World's main structure topped off
Updated: 2021-12-03 09:12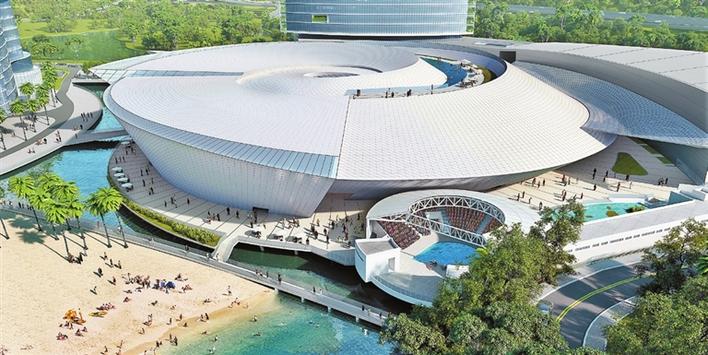 A computer-generated image of Xiaomeisha Sea World. Shenzhen Economic Daily
Shenzhen Xiaomeisha Sea World's main structure was topped off Tuesday, making substantial progress in the reconstruction project, Shenzhen Economic Daily reported.
In December 2019, the then 20-year-old Xiaomeisha Sea World was closed for reconstruction. The new facility is estimated to reopen in 2024. It is Xiaomeisha seaside resort's core engine.
The rebuilt ocean theme park will feature animal exhibits, science popularization and other attractions, and will spread around 60,000 square meters, with a total construction area of about 131,900 square meters. It includes structures called Oceanarium, Cetacearium, Exhibition and Service Center, Happy Theater, Sea Lion Encounter, Tourist Service Center, and two basement levels.
The main building Oceanarium was redesigned by a first-class Japanese architectural firm adopting a vortex concept. The asymmetrical circular structure brings dynamic beauty to the area. "Our team has overcome a lot of difficulties to accomplish the vortex structure," Wang Zhijun, deputy manager of a company responsible for the construction work, told the Daily.
The park will use approximately 40,000 tons of water, including 74 water bodies totaling 20,000 tons for exhibition. Animal conservation for its collection of over 200 rare species encompassing terrestrial animals from the South and North poles, seals, cetaceans (whales, dolphins and porpoises), birds and fishes, and breeding programs will also be undertaken.
The park's eye-catching attraction is called the Green and Blue Hole, the country's largest aquarium. At 11 meters in height and 15 meters in diameter, it will hold 62,280 cubic meters of water and feature a sardine storm.
Also, residents and visitors will be able to reach Xiaomeisha seaside resort by Metro. Metro Line 8's Phase II is expected to be completed in 2024.
According to previous reports, the Xiaomeisha seaside resort closed for renovation Oct. 15 this year. The renovation is planned for completion in 2024 and the renovated resort will be open to the public in 2025.
---