Shenshan installs city's first smart crosswalk
Updated: 2021-11-17 09:11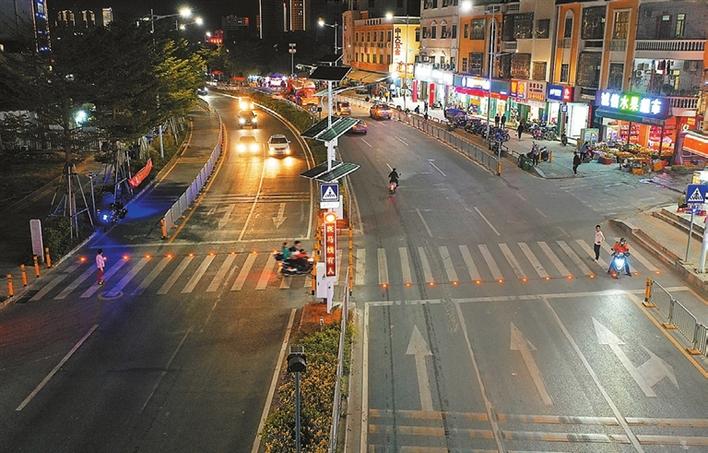 The red lights are on when the system recognizes pedestrians on roads. Dong Yuhan
Shenzhen's first smart pedestrian crossing recently made its debut in the Shenshan Special Cooperation Zone, the Shenzhen transport bureau said Monday.
This marks the city's first adoption of a solar-powered crosswalk equipped with an AI-based pedestrian detection and warning system.
The intelligent pedestrian crossing is located at an intersection of Shenshan Boulevard in Shangjie Village, Ebu Town, which is also the Shenshan section of the G324 National Highway. The crosswalk's system integrates the functions of solar power, pedestrian detection, acousto-optic signals, and ground signal lights.
When the system recognizes approaching pedestrians, the crossing signals and ground lights will flash and a screen will display "pedestrians are crossing the road." At the same time, the frequency of yellow flashing lights will speed up signaling drivers to slow down and yield to pedestrians.
A voice prompt will also remind walkers to "Pay attention to both sides and stay alert," according to traffic flow and road conditions. When there is no pedestrian, the yellow light will flash slowly and the alerting screen, crosswalk signals and ground lights will go into power-saving mode by turning the light off in order to extend the solar batteries' working time.
"The innovation application of solar energy enables the AI-based pedestrian detection and warning system to solve power supply problems, which is a perfect combination of 'green carbon' and 'intelligent innovation,'" said a staffer from Shenshan management bureau under the city's transport bureau.
---