Xi, Biden pledge to steer China-US relations back on right track
Updated: 2021-11-17 09:11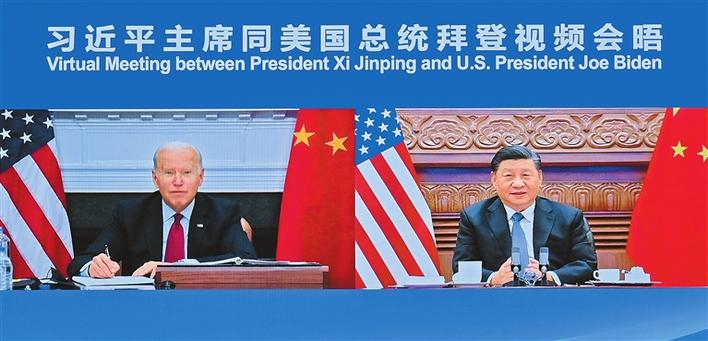 President Xi Jinping meets with U.S. President Joe Biden yesterday morning (Beijing time), the first face-to-face meeting virtually since Biden took office. Xinhua
President Xi Jinping had a virtual meeting with U.S. President Joe Biden yesterday. The two sides had thorough and in-depth communication and exchanges on issues of strategic, overarching and fundamental importance shaping the development of China-U.S. relations and on important issues of mutual interest.
Xi pointed out that both China and the U.S. are at critical stages of development, and the "global village" of humanity faces multiple challenges. As the world's two largest economies and permanent members of the U.N. Security Council, China and the U.S. need to increase communication and cooperation, each run their domestic affairs well and, at the same time, shoulder their share of international responsibilities, and work together to advance the noble cause of world peace and development.
Sound, stable China-US relationship urged
Xi stressed that a sound and stable China-U.S. relationship is required for advancing the two countries' respective development and for safeguarding a peaceful and stable international environment, including finding effective responses to global challenges such as climate change and the COVID-19 pandemic. China and the U.S. should respect each other, coexist in peace, and pursue win-win cooperation. Xi expressed his readiness to work with Biden to build consensus and take active steps to move China-U.S. relations forward in a positive direction. Doing so will advance the interests of the two peoples and meet the expectation of the international community.
Xi pointed out that the most important event in international relations over the past 50 years was the reopening and development of China-U.S. relations, which has benefited the two countries and the whole world. The most important event in international relations in the coming 50 years will be for China and the U.S. to find the right way to get along. It is hoped that Biden will demonstrate political leadership and steer America's China policy back on the track of reason and pragmatism.
Xi highlighted that a review of the experience and lessons learned in growing China-U.S. relations shows that for the two countries to get along in the new era, three principles must be followed. First, mutual respect. The two countries need to respect each other's social systems and development paths, respect each other's core interests and major concerns, and respect each other's right to development. They need to treat each other as equals, keep differences under control, and seek common ground while reserving differences. Second, peaceful coexistence. No conflict and no confrontation is a line that both sides must hold. The U.S. side has suggested coexistence between China and the U.S. One more word can be added to make it peaceful coexistence. Third, win-win cooperation. With their interests deeply intertwined, China and the U.S. stand to gain from cooperation and lose from confrontation. The world is big enough for the two countries to develop individually and collectively. The right thing to do is to choose mutual benefit over zero-sum game or the I-win-you-lose approach.
Xi identified four priority areas where China and the U.S. should focus their efforts on.
First, shouldering responsibilities of major countries and leading global response to outstanding challenges. China-U.S. cooperation may not solve all problems, but few problems can be solved without China-U.S. cooperation. The global initiatives China has proposed are all open to the U.S. We hope the reverse is also true. Second, acting in the spirit of equality and mutual benefit to move forward exchanges at all levels and in all areas and generate more positive energy for China-U.S. relations. Xi expressed his readiness to stay in touch with Biden through multiple means to set the direction and inject more momentum into bilateral relations. The two countries, with broad common interests in a wide range of areas including economy, energy, mil-to-mil, law-enforcement, education, science and technology, cyber, environmental protection and sub-national interactions, should complement each other to make the cake bigger for China-U.S. cooperation.
---