Shenzhen Metro offers flight luggage transport service
Updated: 2021-10-22 09:10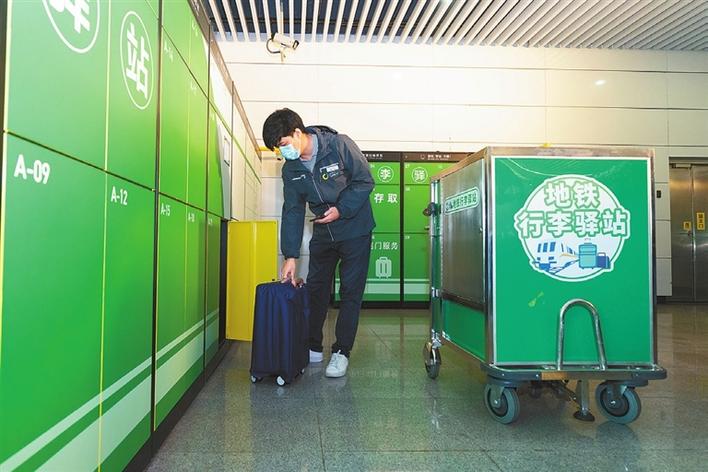 A Shenzhen Metro staffer checks in a passenger's luggage at the "Luggage Hostel." Shenzhen Metro Group
Passengers departing from Shenzhen International Airport don't need to carry their luggage under the Metro and Air Luggage Link program, the first of its kind in China, which was launched Thursday.
Passengers can make reservations via the Lettrip (领航乐行) miniprogram by entering addresses for luggage collection and delivery.
The program is a door-to-door delivery service where Metro employees will collect luggage from the passenger's door, followed by airport transfer via Metro during off-peak hours and then the airport and airline companies will use their ground systems to deliver the luggage to the door of the passenger's destination.
According to Shenzhen Metro Group, passengers' luggage will be sent to "Luggage Hostel" lockers that have been set up at Futian, Shenzhen North, Shenzhen East, Luohu, Chegongmiao, Window of the World, Huaqiang Road and Airport stations. Luggage will be transported from 10 a.m. to 5 p.m., and from 8 p.m. to 11 p.m.
The combined luggage service is expected to reduce traffic congestion and utilize Metro service capacity.
The miniprogram also lets passengers monitor the whole luggage transfer process. "The door-to-door service is very convenient," said a passenger surnamed Li.
The Luggage Hostel service has been incorporated with 18 airline companies' luggage transport service at the Shenzhen airport. China Southern Airlines has opened its two-way luggage door-to-door service at 13 airports including Beijing Daxing, Shenzhen, Guangzhou, Chongqing, Chengdu and Wuhan.
Each passenger availing the service should reserve no later than 5-7 hours ahead of their flights and the luggage should be no more than 20 kilograms. In addition, Shenzhen Metro reminds that reservations can be made only after passengers have completed their online check-ins.
---