SZ displays biodiversity conservation achievements at UN meeting
Updated: 2021-10-12 09:10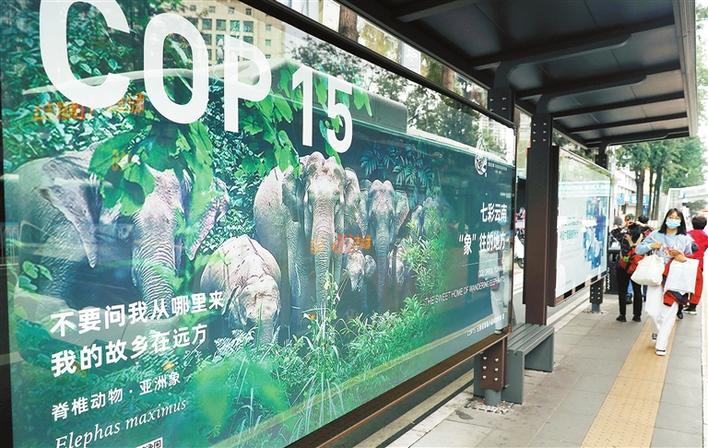 A poster of the 15th meeting of the Conference of the Parties to the United Nations Convention on Biological Diversity (COP15) is seen at a bus station in Kunming, capital of Southwest China's Yunnan Province, yesterday, when the meeting opened. Xinhua
The Shenzhen Virtual Hall of China Pavilion opened to show the city's efforts and achievements in keeping the balance between efficient economic development and ecological conversation yesterday, when the 15th meeting of the Conference of the Parties to the United Nations Convention on Biological Diversity (COP15) kicked off in Kunming, Yunnan Province.

Shenzhen has sent a delegation to attend the meeting.
The virtual hall is divided into 10 sections to introduce the city's biological space, species protection, ecological environment, genetic resources and parks, among others.
People interested can log onto https://chinapavilion.cop15-china.com.cn to visit the hall.
Shenzhen is home to more than 2,500 wild vertebrates and vascular plants including 109 State-protected species and 75 endemic species, according to the official website of the city government.
As a megacity of more than 20 million people whose GDP exceeded 2.7 trillion yuan (US$418 billion) in 2020, Shenzhen has strictly implemented ecological protection measures and steadily improved its ecological environment. Since 2010, Shenzhen has been rated as a national excellent city in ecological environment for 10 straight years. By the end of 2020, the city's forests covered 78,000 hectares and the afforestation rate in built-up areas reached 43.4 percent.
"Shenzhen Blue" has become a symbol representing the city's beautiful skies. These skies appear because of better air quality and the city's 1,206 parks were key to this improvement.
In the first half of this year, Shenzhen's air quality composite index ranked sixth among 168 key Chinese cities. In 2020, the city's average PM2.5 concentration was lowered to 19 micrograms per cubic meter, approaching the level of world-advanced cities.
With its beautiful skies, birds have also become one of the city's attractions. In migration seasons, hundreds of thousands of migrant birds, up to 189 species, take their rest in Shenzhen.
A quarter of the country's discovered bird species were spotted in Shenzhen. In 2020, 361 black-faced spoonbills were recorded in Shenzhen Bay, making the city the second-largest habitat for these endangered birds.
Shenzhen has also seen the most remarkable water quality improvement in China, with all its black and polluted bodies of water eliminated.
The city has set up 25 nature-protected areas with a total area of 494.43 square kilometers, which account for 24.75 percent of the city's total.
Local residents have strong ecological conservation awareness and actively volunteer to protect the ecological environment.
The city has 33,000 registered environmental volunteers and 141 environmental organizations. In 2014, the first nongovernmental coral conservation organization, Dapeng Coral Conservation Volunteer Foundation, was founded.
---