World's largest Legoland park to be built in Dapeng
Updated: 2021-07-28 09:07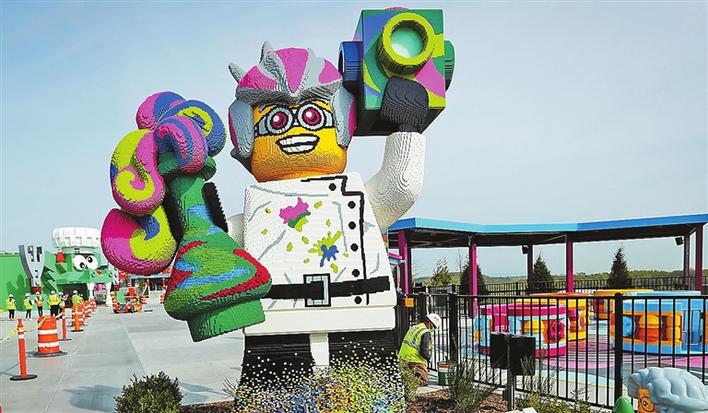 A giant Lego figure is seen in Legoland New York Resort in the U.S. SD-Agencies
A legoland theme park, covering an area of roughly 530,000 square meters, will be built in Dapeng New Area, according to a land transfer notice released by Shenzhen Exchange Group recently.

The total project investment is expected to be around 4.7 billion yuan (US$725.6 million).
The new Legoland will integrate China and Shenzhen elements to be a functional and innovative flagship Legoland theme park. Upon completion, Legoland Shenzhen Resort is expected to become the world's largest Legoland resort.
Earlier this February, Dapeng New Area Government published a plan, which specified that the Legoland Shenzhen Resort will include a Lego theme park (262,700 square meters), a Legoland Discovery Center (103,000 square meters), a Legoland Water Park (96,500 square meters) and a scenic area and tourism service zone (71,800 square meters).
The resort will also have three Lego-themed hotels to provide over 1,100 themed rooms for visitors, according to Shenzhen Evening News.
The project will be operated independently by the U.K.'s Merlin Entertainments Group, the world's second-largest tourist attraction operator. The group acquired the Legoland brand for 250 million pounds (US$345 million) in 2005. The interested local investor is Hazens Holdings, said the report.
Designed specifically for families with children aged 2 to 12 years old, Legoland Resorts are currently located in Denmark, Germany, the U.K., Malaysia, Dubai, Japan and the U.S.
The Lego Group, headquartered in Denmark, was founded in 1932 by Ole Kirk Christiansen, The Lego brick is their most important product, according to the group's profile.
---