Volunteers help restore Baguang wetland
Updated: 2021-04-20 09:04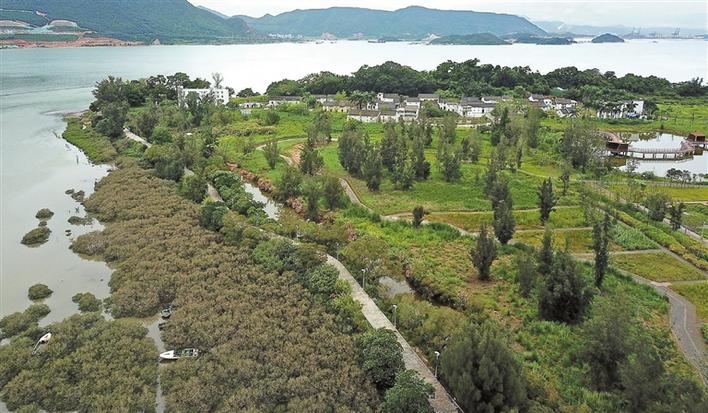 An aerial view of a mangrove forest at Yanzao in Baisha Bay in Dapeng New Area. Li Jingchuan
Along the coast of Baguang in Dapeng New Area from Yanzao to Chantou and then to Tianliaoxia, mangrove trees lined up for several kilometers and formed a wetland forest, providing a habitat for various organisms.

The restored forest, about 60,000 square meters with about 200,000 mangrove trees, is the result of 75,445 service hours of 7,994 volunteers in the past decade, according to Shenzhen Evening News yesterday.
On Thursday afternoon, Shenzhen Spring Environmental Protection Volunteer Association (SENGO) gathered 40 volunteers and planted 500 saplings at Yanzao in Baisha Bay to help restore the ecology there.
Li Zhengjun, 66, a senior volunteer and council member of SENGO, joined the mangrove project in 2012 by planting trees in Dapeng. The saplings all died out due to the onset of the green algae, enteromorpha.
With the help of universities, Li started sapling farming in 2013 and organized volunteers to fend off green algae with wire gauzes. The effort had ensured the survival of 90 percent of the saplings. The saplings now had grown to around 3 meters tall.
"Unlike planting on land, mangrove restoration in the mud is often challenged by complicated technical issues as the saplings are easily affected by tides, salinity, water temperature, freshwater replenishment, pests and mudflat self-cleaning capability," said Li.
SENGO's mangrove protection project has won wider support from environmental volunteers. The associations put forward suggestions on ecological protection upon government decision to develop Baguang area into the city's bio-valley. The Baguang mangrove wetland is now home to 400 plants and a variety of insects. It is also abundant in fish and attracts nearly 100 bird species plus other animals to stay in the area.
"The mangrove forest is being restored and so is the bio-diversity," Zhu Zhu, secretary general of SENGO, said.
Latest statistics of the city's planning and natural resources bureau showed the size of mangrove forests in Shenzhen has reached 210 hectares, 40 hectares more than 10 years ago. A report of Shenzhen Mangrove Conservation Foundation showed the size of Shenzhen mangrove forests started to grow in 1988 after a decade's decline caused by human activities. The restoration still faces challenges like water, noise and light pollution, human damage, ecological invasion, plant diseases and pests.
---