CPC leads China's transformation
Updated: 2021-02-25 09:02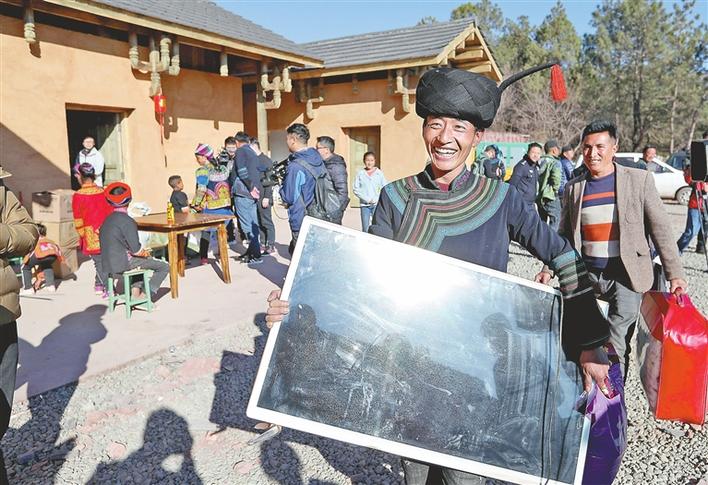 Ma Hairicong of the Yi ethnic group poses for a photo on the day when he and his family move into a new home in Zhaojue County in Northwest China's Sichuan Province, on Feb. 11, 2019, in this photo released yesterday. He was one of the first group of 29 impoverished families with 168 members in the county to bid farewell to their mud-brick homes and move into new homes at a new relocation site. It was also the largest relocation site for impoverished residents in Sichuan. China's massive anti-poverty campaign has transformed nearly 100 million lives in just eight years. It was a miracle that helped the world's most populous country achieve the U.N. Sustainable Development Goal on poverty eradication 10 years ahead of the schedule.

Editor's note: To mark the 100th anniversary of the founding of the Communist Party of China (CPC) which will fall on July 1 this year, from today on, Shenzhen Daily will bring you stories of the Party, ranging from its founding history to its feats of leading the Chinese people to build a moderately prosperous society.

It is near noon. Jiang Youwen, 53, feeds his chickens and rides his motorcycle to the bamboo grove in Guanjiang Village, Liuzhou City, South China's Guangxi Zhuang Autonomous Region.
"It's not yet the season for bamboo shoots, but I need to cut down some old shoots to make room for the new ones, or their quality will slip," said Jiang while shuttling through the bamboo forests.
Jiang, like most of his fellow villagers, used to live in absolute poverty. Generation by generation, their attempts to improve their lives were frustrated by the rolling hills. Even a walk across the village would require trudging along a 2-km mountainous road.
Jiang has eight siblings, making the family the biggest in the village. "But starvation is still the most profound memory of my childhood," he recalled.
Poverty has troubled China for thousands of years. The CPC's doctrine is to enable the people to live a better life.
Over the past 40-plus years of reform and opening up, more than 700 million people in China have been lifted out of poverty — more than 70 percent of the global reduction in poverty.
The poverty reduction went into a new phase when a "targeted policy" was introduced in 2013, which demands local authorities to tailor relief measures to local conditions — a guiding principle in China's move to eradicate absolute poverty.
Party officials were dispatched to villages to drive the anti-poverty campaign. Funds were allocated, industries developed and relocations carried out on an unprecedented scale.
Under the leadership of the CPC, all of China's nearly 100 million impoverished rural residents living below the current poverty line have shaken off poverty after eight years' efforts. All 832 poor counties have now been lifted out of poverty.
The per capita net income of the rural underprivileged rose from 2,982 yuan (US$461) in 2015 to 10,740 yuan in 2020, posting an average annual growth of 29.2 percent.
Feeding one-fifth of the world's population and letting them live a well-off life is just one of the miracles the CPC has achieved in the past 70 plus years since it began to govern the country.
China has risen from a poor and backward nation into the second-largest economy in the world as its GDP exceeded the 100-trillion-yuan threshold in 2020, an incredible transformation from the 67.9 billion yuan registered in 1952.
Given the global stagnation caused by the COVID-19 pandemic, China, which saw its GDP increase 2.3 percent year on year in 2020, is expected to be the only major economy to post growth in the pandemic-ravaged year.
With a slew of epoch-making policies such as the reform and opening up, free trade zones and the initiative to embrace an open and fair global trade system including the World Trade Organization, China has become a leading global manufacturer and a major trading partner of about 130 countries and regions.
As China effectively controlled the COVID-19 epidemic domestically, the country has provided assistance to over 150 countries and 10 international organizations to help fight the unprecedented pandemic, and its self-developed vaccines will also be a public good.
From this year on, China is in a new stage of transformation. The first centenary goal will be achieved this year as the Party celebrates its centenary.
The CPC has announced that the country will see that socialist modernization is basically realized by 2035 and develop itself into a great modern socialist country by 2050.
---