China Marine Economy Expo 2020 kicks off
Updated: 2020-10-16 09:10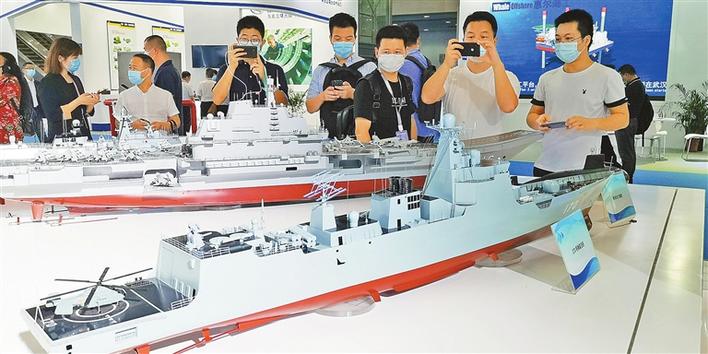 Visitors to the China Marine Economy Expo take pictures at the booth of China State Shipbuilding Corp. Ltd. on Thursday. Sun Yuchen
This year's China Marine Economy Expo (CMEE) kicked off Thursday at the Shenzhen Convention and Exhibition Center in Futian District.

A slew of new marine technologies and products are being exhibited at the expo.
Ship models presented by China State Shipbuilding Corp. Ltd., including models of the first China-built large cruise ship, a large LNG carrier with the capacity of 175,000 cubic meters, and a vessel with a capacity for 23,112 containers, have attracted a wide audience.
Shenzhen Institutes of Advanced Technology under the Chinese Academy of Sciences showcased 20 innovative marine achievements at this year's CMEE, including a virtual fish that can be used to monitor water quality and carry out scientific expedition tasks.
To celebrate the 40th anniversary of the Shenzhen Special Economic Zone, this year's CMEE also set up an area in Hall 1 of the convention and exhibition center to introduce Shenzhen's marine development history over 40 years.
At the same time, the International Cooperation and Development Forum on Marine Economy 2020, a strategic forum of CMEE, was held Thursday afternoon at Sheraton Shenzhen Futian Hotel.
The forum focused on the most promising and valuable segments of the marine economy and invited experts and guests from related fields around the globe to discuss the changes and opportunities of the marine economy against the backdrop of the COVID-19 pandemic.
The two-day forum includes a plenary session titled "Looking at 2030: China's evolving place in the global marine economy," and several parallel sessions.
This is the second time for Shenzhen to hold the CMEE. The CMEE is believed to be of significance not only for Shenzhen to build itself into a global marine-centered city but also for the country's maritime power strategy.
The expo will wrap up Sunday.
---