Qianhai, Lingnan University to jointly develop cultural and creative industries
Updated: 2023-03-31 09:03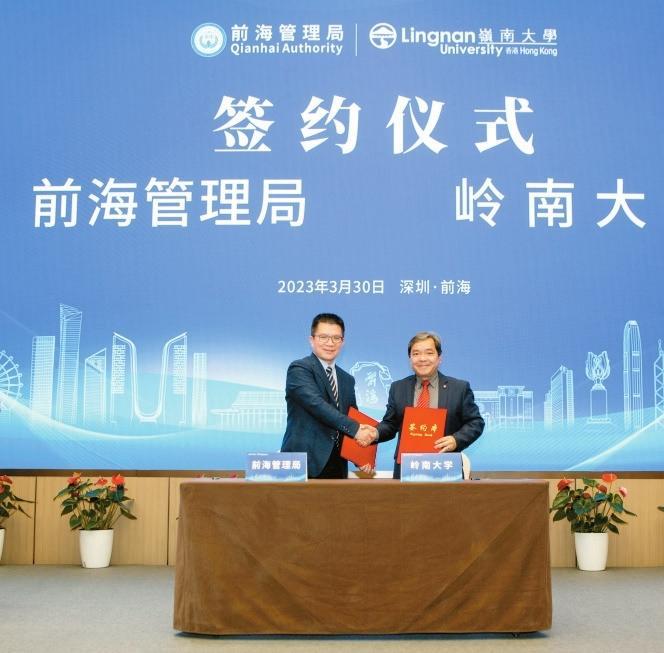 Wang Jinxia (L), vice director of Qianhai Authority, and Mok Ka-ho Joshua, vice president of Lingnan University, shake hands after signing a cooperation agreement Thursday. Qianhai Authority
The Authority of Qianhai Shenzhen-Hong Kong Modern Service Industry Cooperation Zone of Shenzhen signed a strategic cooperation agreement with the Hong Kong-based Lingnan University at a press briefing Thursday to jointly develop the cultural and creative industries.
At the press briefing, Lingnan University inaugurated its Creative and Cultural Innovation Research Institute, which will be settled in Qianhai.
According to a five-year development plan the university formulated, the institute will focus on four core targets in promoting the innovative development and optimized management of the cultural and creative industries, enhancing the synergistic effect of industry-university-research cooperation, cultivating and delivering high-quality talents, and stepping forward toward internationalization.
Mok Ka-ho Joshua, vice president of Lingnan University, said that they hope to provide young people from Shenzhen and Hong Kong with more opportunities and promote their mutual exchanges through the Creative and Cultural Innovation Research Institute. "We also want to bring the future cultural and creative achievements to the world through our scientific research and cooperation with the relevant enterprises and circles in Qianhai," Mok said.
Lingnan University was founded in Guangzhou in 1888 and reopened in Hong Kong in 1967. As a member of the Global Liberal Arts Alliance, it has formed alliances with over 250 institutions in 49 countries, and is committed to academic research in fields such as the humanities, social sciences, and business and management.
---