Low-carbon technologies integrated into daily lives
Updated: 2022-08-15 09:08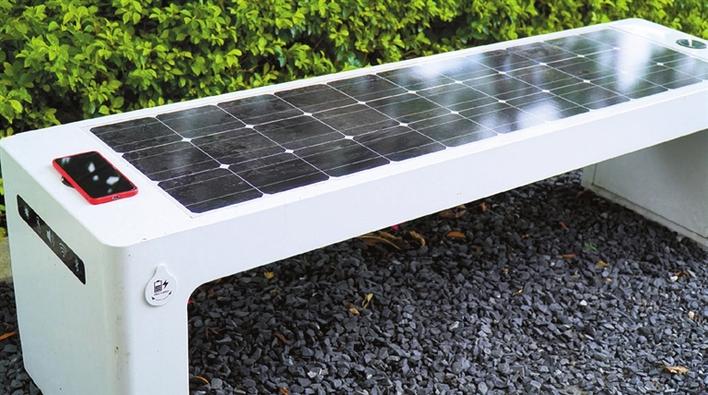 Photovoltaic panels on an outdoor bench in Xinqiaoshiju in Pingdi Subdistrict, Longgang District. Shenzhen Evening News
Residents living in Xinqiaoshiju housing compound in Pingdi Subdistrict, Longgang, can check their carbon footprint via an app and charge their mobile phones by putting their phones down on benches in the residential compound. A series of low-carbon technologies have been used in the compound to promote a low-carbon lifestyle among citizens.
Thus far, the residential community has adopted over 140 green and low-carbon technologies to solve many difficulties in low-carbon construction in the community, becoming the first near-zero emission and sustainable development community in Shenzhen.
Photovoltaic panels are used on the rooftop of a 160-meter-long corridor. The power generation area covers 523 square meters. The photovoltaic panels can produce nearly 120,000 kWh annually to reduce carbon emissions by 88 tons.
In addition, photovoltaic panels are used on outdoor benches and on a large outdoor umbrella. During the daylight hours, the umbrella provides shade while absorbing energy. At night, it can generate electricity for lighting.
The community also installed a small photovoltaic power plant that can generate an average of 540,000 kWh of electricity per year to reduce carbon emissions by an expected 420 tons. Moreover, the community utilized the country's first near-zero emission smart management platform, according to Shenzhen Evening News.
The platform includes a screen showing data including residents' carbon accounts, carbon points, and information of low-carbon practices such as public transportation and the "clear your plate" campaign.
After registering a carbon account, residents can check their carbon footprint by uploading related data.
The community's basic carbon emissions are about 630 tons per year while the community's energy saving equipment and technologies can reduce carbon emissions by 580 tons. More near-zero emission communities like this will be built in the city.
A near-zero emission community reduces energy consumption through green buildings, renewable energy facilities, and smart management systems and reduces resource consumption via low-carbon lifestyle changes such as using green consumption, public transportation and garbage classification, according to Wei Fulei, deputy director of the new energy and low-carbon development research center of the China Development Institute.
Data showed that the annual per capita carbon emissions in the country is about seven tons. The potential carbon reduction for Shenzhen residents is over 22 million tons per year. Residents thus can significantly contribute to the construction of near-zero emission communities by living a low-carbon lifestyle.
---