A Manchester City supporter's tale of two cities
Updated: 2020-09-14 09:09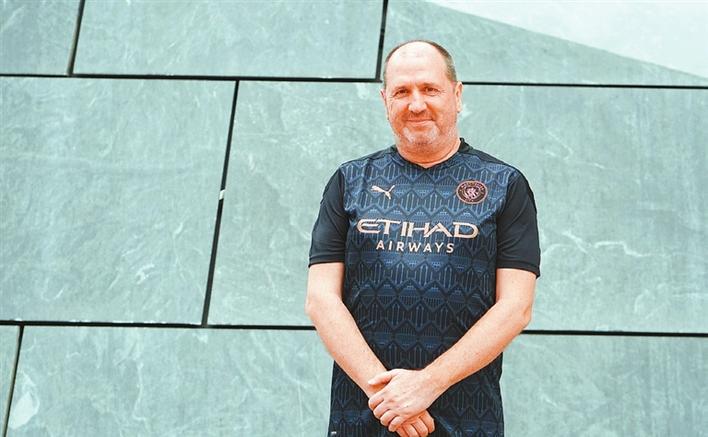 Stephen Richardson
IT was 47 years ago when a 7-year-old English boy, who lived in Gorton, the United Kingdom — a small town that is just a few miles away from Maine Road Football Ground, the former home stadium of Manchester City Football Club between 1923 and 2003, made up his mind to support the "blue team" following his uncle and his elder cousin.

Now the boy, Stephen Richardson, has turned 54. He relocated to Shenzhen in 2014, a city that is about 10,000 kilometers away from his hometown in Manchester and has established and served as president of "Shenzhen Blues" — the first official membership supporters club of Manchester City on the Chinese mainland since 2015.
"In the past I would say I've been supporting Manchester City for 44 or 45 years. Now I may slightly change the number and make it to 47 years. The only thing I'm for sure is that the years will be counting in the future as I'm ready to support the team all my life."
Richardson gave an amiable smile while recalling the stories with his home team during an interview with Shenzhen Daily. The tall Englishman wore an away jersey of the soccer giant for the upcoming new season of the English Premier League.
Richardson said he moved to China and started his own furniture company in March, 2014.
As many expats and soccer enthusiasts would do, Richardson dropped in frequently at the Futian location of McCawley's Irish Pub to watch soccer games with his friends. He met Kevin and Maire, an English couple who also support Manchester City, during a match watching session at the pub. They chimed in with each other on establishing a supporters club for their home team thereafter.
"We asked the club about how to establish an overseas official supporters club. They helped us apply and Shenzhen Blues was founded July 1, 2015. We also have football teams for adults and children respectively," recalled Richardson.
It was beyond Richardson's expectation that nearly 100 fans would come to the inaugural event of Shenzhen Blues. "We didn't realize that there are some many people supporting Manchester City in Shenzhen," he said.
Retired Chinese defender Sun Jihai, who played for the club between 2002 and 2008, also sent his regards to Shenzhen Blues via video message at the first event.
The Englishman sees the 5-year-old supporters club and its members as his family and friends. The club is a gathering of like-minded people and an emotional outlet of soccer fans. It is an independent organization but still in close contact with the soccer club. It's a member of an international community knitted up by the supporters clubs all over the world, a special access for the expats to understand how Chinese people think about things concerning soccer, and a witness to the continuous loyalty towards one single team that may be passed down through generations.
"The conversations between me, my friends in Manchester and fans at Shenzhen Blues are quite the same. We talked about the goals and the performance of the players. Chinese fans are very knowledgeable of the team and wear shirts more often than the fans in England," said Richardson.
Manchester City came to Shenzhen in 2016 during their summer tour. Richardson recalled that four players were invited to McCawley's to sign autographs for the fans. They attended an exclusive training session and watched a game between the team and Borussia Dortmund at Shenzhen Universiade Sports Center in Longgang District.
Besides receiving players and organizing the fans to watch matches on spot during the club's summer tours, Shenzhen Blues is also holding a series of match watching sessions and charity events.
---