Nucleic acid test results required for passengers leaving SZ
Updated: 2021-06-07 12:06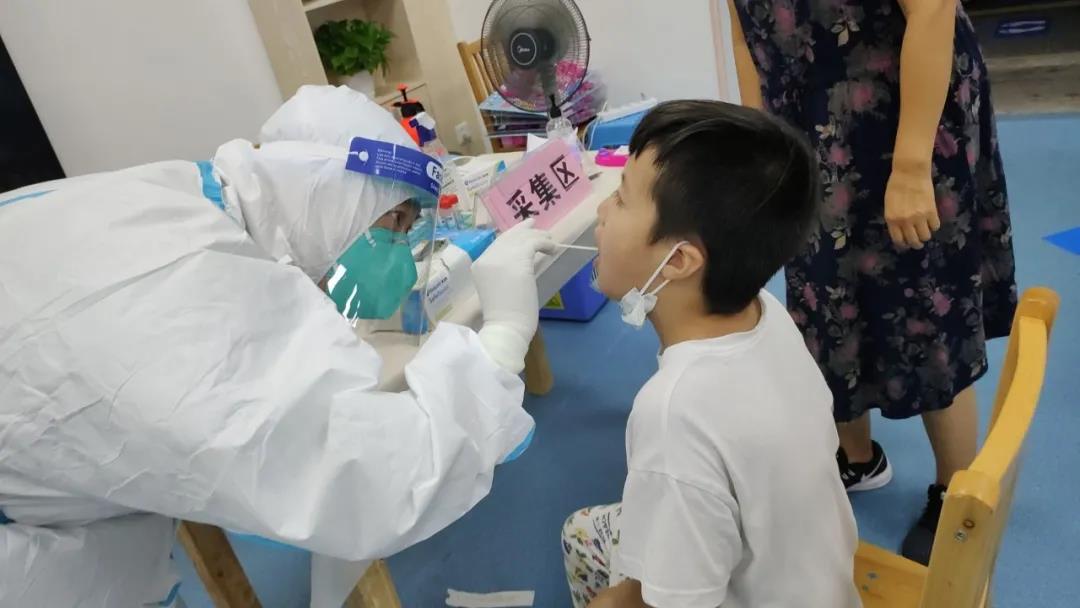 A medic worker collects a sample for nucleic acid test from a young boy at a designated COVID-19 testing site in Maluan Subdistrict, Pingshan District. DT News
Starting from 12 p.m. today, all passengers leaving Shenzhen via Shenzhen Bao'an International Airport are required to present their green health codes and negative nucleic acid test results issued within 72 hours of departure, according to a notice released by the Shenzhen Municipal Transport Bureau late last night.

For passengers who hold a Guangzhou or Foshan ID card or had traveled to the two cities within 14 days, the nucleic acid test result should be issued within 48 hours.
The requirements exclude passengers who arrive in Shenzhen for transfer.
Either the electronic version of nucleic acid test results as displayed on the same interface as the green health code or the paper version issued by a qualified medical institution will suffice.

Passengers who cannot depart on time due to the lack of valid nucleic acid test results can apply for a refund or a change of flight according to relevant policies.
The airport reminds passengers to wear masks throughout their trip and cooperate with airport staff members for body temperature checks and personal health information collection.
Passengers leaving Guangdong Province via any railway station in Shenzhen are also required to show their green health codes and negative nucleic acid tests result issued within 72 hours, according to another notice issued by the transport authority.
Passengers making trips within Guangdong Province only need to present their green health code.
Details on railway ticket refunds can be found on the WeChat accounts of the transport authority or the China Railway Guangzhou Group Shenzhen Station.
Passengers are reminded to arrive in the railway stations in advance and cooperate with railway station staff members for information verification and body temperature checks. Passengers in queues are also reminded to keep one-meter distance from other passengers, and not to take off their masks during the trip.
---