Park visits in Shenzhen call for caution
Updated: 2020-03-02 09:03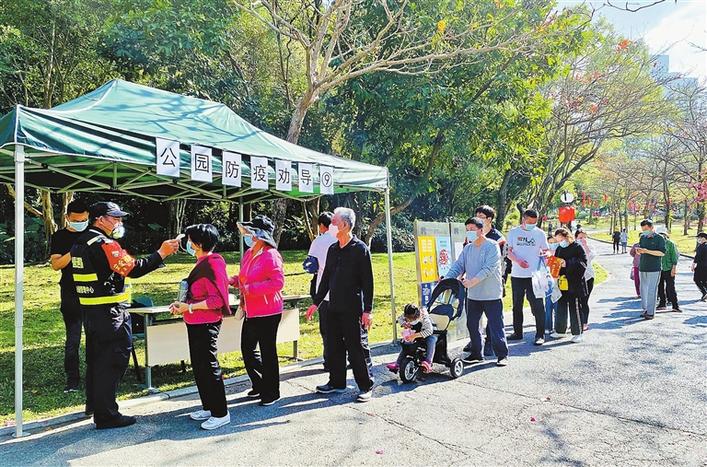 Residents line up to have their temperature checked at an entrance to Lianhua Hill Park. Liao Wanyu
The city saw an increase in residents visiting parks over the weekend as work resumption continues. Residents should, however, remain on high alert against coronavirus risks, said an official with the municipal park management center.
On Saturday alone, public parks open across the city received 73,415 visitors, with the largest number seen at Shenzhen Bay Park, according to information released by the park management center.
In order to effectively contain the epidemic, the park management center has issued a notice requiring each park that has opened to the public to take precautions through such methods as posting useful notices concerning the virus battle, setting up checkpoints for body temperature checks and arranging staff to conduct regular patrols.
Epidemic control stations have been established at four of Shenzhen Bay Park's major entrances to strengthen prevention and control work and provide travel guidance for visitors.
Wang Chuanfeng, director of Lianhua Hill Park in Futian District, told the Daily Sunshine that the park's peak times are the morning and late afternoon at present.
"We also use drones to monitor real-time visitor flow and will organize staff to disperse crowds when seen in the park," said Wang.
Staff at the checkpoint at the Dawang community, where the Wutong Mountain scenic area is located, have dissuaded over 3,000 people planning to visit the park from entering, according to the Daily Sunshine report.
The Wutong Mountain scenic area is closed to avoid gatherings. Twenty public parks including Fairy Lake Botanical Garden are also closed.
---