African woman shares real China stories in speech contest
Updated: 2021-07-08 09:07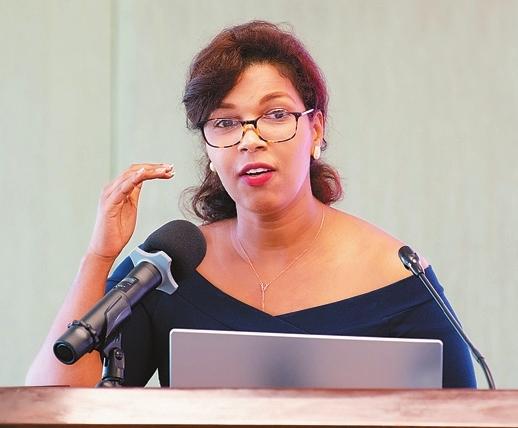 Fathia Moussa Rayaleh in the speech contest. China Merchants Port Group
Fathia Moussa RAYALEH from Djibouti in Africa didn't hesitate for a moment when her employer China Merchants Port Group Co. Ltd. invited employees to participate in a speech contest. The contest had a theme about stories of the Communist Party of China (CPC).

"I immediately asked about the Party branch of my company whether I could attend the contest," she told Shenzhen Daily in an interview yesterday. "I have been living in China for 15 years. Lots of stories happened and I think it is also a good chance for me, as a foreigner, to present China stories from a more objective perspective."
Rayaleh was the only expat contestant in the competition held by the Shenzhen company June 18.
"I have always been thinking about a question," said Rayaleh in her speech. "More than 70 years ago, China was not rich with a huge population and wide regional economic gap. So, who gathered people to develop the country? After living in China for over 10 years, I gradually come to realize that it is the CPC that brought people together and made great achievements."
Rayaleh once worked at the Djibouti Embassy in China in Beijing after she graduated from Beijing University of Posts and Telecommunications. In 2013, She came to Shenzhen for her current job post.
When she was asked about her impression of Shenzhen, the first thing that came to Rayaleh's mind is the government's efforts to stem COVID-19.
"The government has conducted effective measures to control the pandemic," said Rayaleh. "Residents are very cooperative and follow required instructions. If other countries do it the same way, I believe the pandemic will be stifled effectively. Safety is the most important thing. I feel safe in China."
Rayaleh said she saw the government's determination to bring happiness to people in small things that happen around her.
"Many of my colleagues are CPC members," Rayaleh said. "They are diligent at work and always glad to lend me a helping hand. When I was sick, they visited me. When I didn't feel well, they bought food for me. Although these were small things, I was deeply touched."
Currently living in Shekou, Nanshan District, Rayaleh is also impressed by Shenzhen's rapid development over the past years. "Shenzhen is an international city with a beautiful environment," Rayaleh said.
She won the third prize in the contest and said she is willing to spread and tell more stories about China in the future.
---