Indians enjoy SZ's charms in photo exhibit
Updated: 2021-07-07 09:07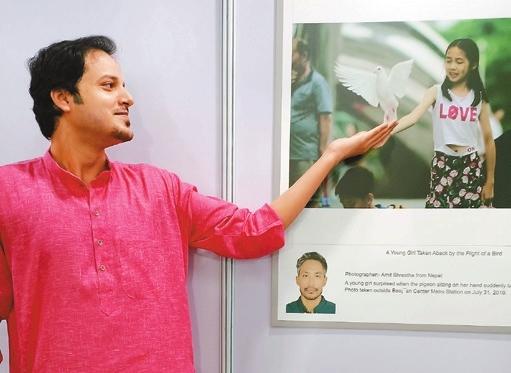 An Indian man poses as if holding the dove in one of the winning photos on display at the Expats Eye Shenzhen Photo Contest exhibition on June 29 in Noida State, India. Courtesy of CCPIT Shenzhen
A total of 50 works selected from all the winning photos in the Expats Eye Shenzhen Photo Contest were exhibited June 29 in Noida State, India. The one-day event attracted 300 local people to discover Shenzhen's beauty through the lens of expat photographers.

The well-designed photo exhibit themed as "Shenzhen is the home where our hearts settle" was held by the Liaison Office in India under China Council for the Promotion of International Trade Shenzhen Municipal Committee (CCPIT Shenzhen).
Visitors enjoyed the quality of photos featuring China's southern technology hub. They were stunned by the astonishing achievements of this city, which transformed to one of China's megacities in four decades.
Devendra Kumar Kushwaha is one of the local visitors giving a thumbs-up and writing on Facebook that "When you can see beauty in everything … You are artist. Beautiful experience of Shenzhen photo exhibition."
Jiang Xiaopan with CCPIT Shenzhen's Liaison Office in India said that the event is aimed at bringing Shenzhen closer to India and showing the vitality and diversity of the city.
---