Expats in SZ bring COVID aid to their motherlands
Updated: 2021-05-10 09:05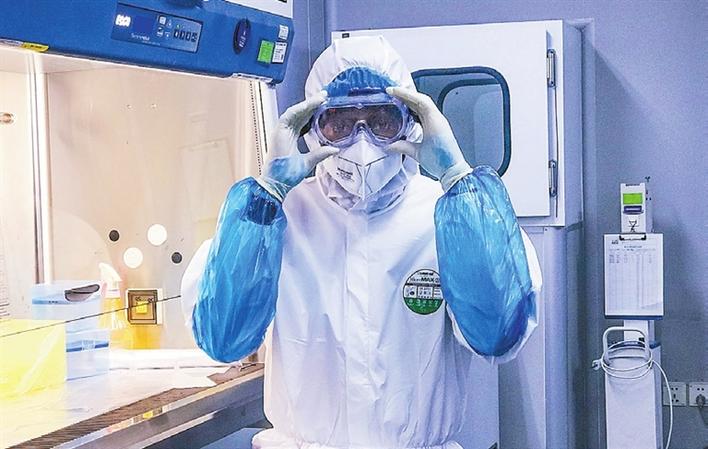 Valdemar Rodrigues Augusto Tchipenhe, a 24-year-old Angolan field application scientist with BGI, works at a Huo Yan Lab in Shenzhen in this undated photo.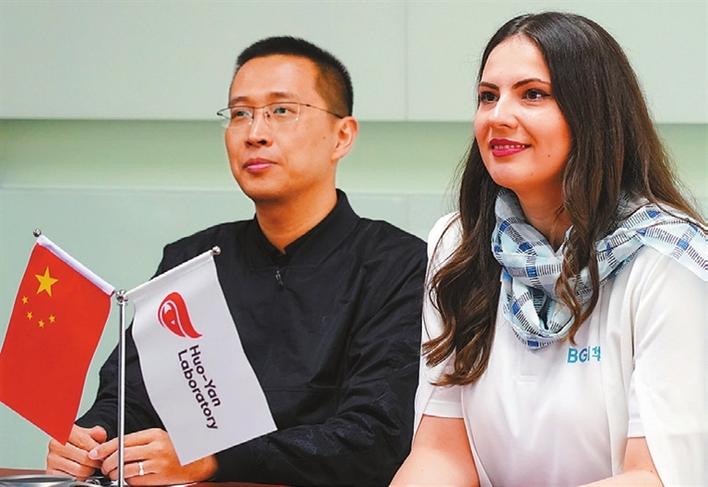 Ivana Todorovic (R) from Bosnia and Herzegovina attends an online donation ceremony for her country in Shenzhen on March 2. Courtesy of BGI
Valdemar RodriguesAugusto Tchipenhe and Ivana Todorovic, two Shenzhen-based foreign medical researchers, were recently awarded by their home countries for their contribution to local pandemic prevention and control.
Tchipenhe, a 24-year-old Angolan field application scientist with BGI Genomics (BGI), shouldered heavy responsibility for building four Huo Yan biological nucleic acid laboratories (Huo Yan Lab) in his motherland. He spent almost five months setting up labs, installing devices, training local technicians and working as a translator between the Angolan Government, the Ministry of Health in Angola and BGI.
To recognize his accomplishment in applying China's technology to Africa, the Angolan authority awarded him the Certificate of National Youth Honor in September last year.
In April this year, the assembly of Banjaluka, capital of the Republic of Srpska in Bosnia and Herzegovina, honored Todorovic as outstanding youth for her contribution in education and medicine to the city.
The 28-year-old, who is BGI's clinical R&D specialist/manager, took an active part in facilitating a donation of 5,000 PCR (polymerase chain reaction) test kits by BGI and Mammoth Foundation, a Shenzhen-based nonprofit organization, to reach the ground of Banjaluka.
China's pandemic aid has made a big difference in these two countries.
"Before my team and I went to Angola, I think Angola only had around one or two labs that were responsible for carrying out COVID-19 tests. You can imagine they would have roughly around 60 to 100 samples for the COVID-19 test per day. I believe at the beginning of the pandemic, that number was really really really low," Tchipenhe told Shenzhen Daily.
The completion of four Huo Yan Labs in Angola has allowed 6,000 nucleic acid samples and 6,000 antibody samples to be tested per day. "It was very beneficial at the time because people that want to travel then travel at a lower price. The price for the test itself was not as expensive as it was when they (labs) only tested 100 samples per day." The Chinese Government also sent medical experts and donated COVID-19 vaccines and other bio-safety materials to Angola.
Tchipenhe endorsed the significance of China's engagement to combat the COVID-19 in Africa. Awarded with the Chinese Government's scholarship, the young man got well trained and found a high-level job in China. Now, he brings advanced sciences and technologies back to his motherland. "The history of friendship and brotherhood between China and Angola comes a long way. I am one of these great examples, which shows the Chinese Government efforts to improve the relationship between them and other African countries by helping them."
In the future, he will continue to manage all the Huo Yan Labs that BGI has built in four African countries.
While talking about her experience about obtaining and donating the epidemic prevention supplies from China to Bosnia and Herzegovina, Todorovic admitted that "It was like a big roller-coaster." She participated in all steps from the start until the package landed in her country. "I communicated between the donor, receiver, import company and a shipping company. Our team had to discuss almost one month on every detail and confirm with cargo, airports, warehouses, etc. because the cold supply chain is susceptible and challenging to organize."
Now, she is one of her country's coordinators for an international health-care industry alliance under the China Chamber of Commerce for Import & Export. "That will enable a better procurement system to source health commodities from really qualified suppliers, support each other in critical moments and be prepared for future health-care cooperation needs."
As the first Bosnia and Herzegovina student to graduate from Tsinghua University, the medical doctor also gave a thumbs-up to the Chinese Government and Shenzhen-based organizations' support to fight COVID-19 in her motherland and other Eastern European countries. "China's governance and health-care system proved to be one of the most efficient and resourceful in the world. I am also very proud that BGI, Mammoth and other organizations donated test kits last March and two Huo Yan Labs to Serbia, where I used to live."
Shenzhen, the second home for both expat talents, is exactly where they realized dreams: using knowledge and skills they gained in China to help their home countries.
"I will improve my research skills and hopefully publish impactful articles. (They are) all critical upon return to my home country," said Todorovic.
Tchipenhe planned to explore more opportunities in Shenzhen, which he dubs as "one of the best young cities in China." "Shenzhen is like a hitting gym for foreigners because there are a lot of opportunities."
---