Colombian biology teacher in love with SZ's biodiversity
Updated: 2021-03-15 09:03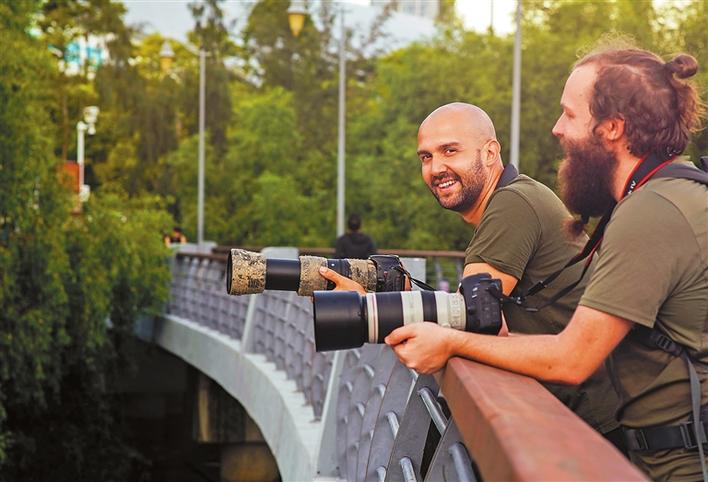 Isaac Cohen
After arriving in Shenzhen in the summer of 2017, Isaac Cohen started his first local birding session at Central Park in Futian District. There he first spotted a crested, red-faced bird bouncing around in joy. It is a red-whiskered bulbul and is the first bird species Cohen spotted in Shenzhen.
Born in Colombia, home to more than 2,000 bird species in the world, Cohen took after his father's passion in photography and found himself being particularly attracted to these beautiful, feathered creatures.
"I would like to take photos of everything in nature, but in a city, you are less likely to spot many kinds of animals than in the field or jungles. Birds are more visible animals and easier to spot in cities. So I choose to take photos of birds and have developed a wide collection of birding photos taken in Shenzhen and other places I have been to," said Cohen.
This passion for nature also leads Cohen to pursue his undergraduate and postgraduate studies in biology and hydrobiological resources, respectively. He also found himself interested in teaching, so he earned another master's degree in pedagogy and taught at an international school in his hometown for eight years before moving to Shenzhen with his family at the invitation of the Shenzhen International Foundation College.
Now, just like any other birdwatcher, Cohen goes birding as long as he has time. He starts early in the morning and doesn't mind waiting at the same place for hours just for a decent chance to shoot. He has taken a vast amount of wildlife pictures across local habitats, yet it was not until last year when Cohen started to share more of his photos to the public.
Encouraged by his wife Tatiana, Cohen opened an Instagram account named "cohenwildlife" last January and started to post photos about species he spotted in Shenzhen every day.
"The social media account helps me in many aspects like selecting photos, writing the captions and interact with the followers. Receiving good feedbacks motivates me to go out whenever I can to find new species and take photos," he said.
Some of Cohen's Instagram posts won at the 2nd Expats Eye Shenzhen Photo Contest. What's more, a photo of a wounded banded bullfrog in a defensive posture was also reposted and featured by BBC Earth's official Instagram account.
Compared with some other birders who pursue high-quality pictures with delicate textures and beautiful flying postures, his intention is to register as many species as he can and to keep a record of their local habitats.
"Surely you can have very nice photos sometimes, but it is just a plus. The main goal is still about seeing them rather than the photos themselves," he said, adding that photo quality is bound to improve along with one's shooting experience.
According to Cohen, the most impressive and spectacular animal activity of in Shenzhen is migration. "At first, you can see only three or individuals of one species of bird, then one week later you can see 10 of them, and later on you will have hundreds and thousands of them in the same place. It is really exciting to see the birds coming in huge numbers and occupying the bay," he said.
To kick off the New Year, in January, Cohen opened another Instagram account named "shenzhenperspective." "This account is about my perspective of the city. It can be everything I spot during my walk, including people, animals, buildings and more," he said.
Although the two accounts gained Cohen more than 1,500 followers on Instagram, he is thinking about sharing his photos to some popular social media platforms in China, such as opening a WeChat official account.
---