Book Stores
From:
Culture, Radio, Television, Tourism and Sports Bureau of Shenzhen Municipality
Updated: 2020-07-14 16:07
Central Shenzhen Book Mall 深圳书城中心城
Central Shenzhen Book Mall subordinated to SPDG Group is the first experience-type book mall in China as well as the largest single-storey book mall in the world. Since its establishment in 2006, this book mall has received about 10 million readers every year and more than 100 domestic and foreign delegations have visited here. In addition, it has harvested an annual output value of 500 million yuan, of which, 150 million yuan is gained from various publications. Its annual output growth rate ranks first among other large-scale book malls in China. Central Shenzhen Book Mall has initiated some non-profit cultural brands including "Shenzhen at Night 8 O'clock" and "24-hour Book Bar". Meanwhile, it has been entitled as National Civilized Unit, Super Book Mall in China, and Excellent ICIF Branch Exhibition Hall (for four times), gradually becoming a civilized book store among the publication and distribution industry in China.
Add: North to Civil Center and south to Lianhua Mountain, Fuzhong 1st Road, Futian District
Tel: 0755-23992013; 23992014
Metro: Longhua Line Children's Palace Station
Bus: 41, 60, 76, 107, 236 etc. Stop at Central Book Mall Station;10, 15, 41, 60, 374 etc. Stop at Children's Hospital Station
Shenzhen Book Mall Luohu Branch 深圳书城罗湖城
Shenzhen Book Mall Luohu Branch (referred to as Luohu Book Mall) was formally established on June 15, 2005. It is affiliated to Shenzhen Publishing Group Co., Ltd.
The Book Mall is located at Shennandong Road, adjacent to Diwang Building. It is one of the prosperous commercial and residential centers in Shenzhen, with superior geographical location and convenient transportation. Luohu Book Mall has a business area of 13,000 square meters. It is engaged in selling various books, periodicals, audio-visual products, electronic publications and antique collections with a designed capacity of collecting more than 200,000 books. And it receives more than one million readers each year. As the brand of Shenzhen book mall and the birthplace of Shenzhen Reading Month activities, Luohu book mall has always been committed to spreading culture and promoting reading , The "Book Cube", "Metro reading season", "little orange lantern reading center" and other reading cultural activities are loved by readers. "Taking reading as pleasure and reading as pride", Luohu Book Mall uses the "living culture" to let Shenzhen's books linger.
Business hours: Thursday to Sunday 9:30-21:30; Friday to Saturday 9:30-22:00
Add: No.5033, Shennandong Road, Luohu District
Tel: 0755-82073446
Subway: Luobao Line, Shekou Line, Grand Theater Station, Exit F
Bus: 3, 7, 8, 10, 12, 14, 18, 23, 24, 29, 30, 33, 62, 63, 101, 103, 104, 113, 203, 204, 215, 302, 311, 321, 336, 337, K113, K204, 103B, N3 night buses, sightseeing bus lines 1 and 2 to Baoan South Road Station / Shenzhen Book City Station /Diwang Building Station
Wifi: Account / bookmall-topway, log in by using phone number to gain identifying code
Website: www.szbookmall.com
Shenzhen Book Mall Nanshan Branch 深圳书城南山城
Shenzhen Book Mall Nanshan Branch is one of the five super book malls under "Shenzhen Book Mall". It is located in the core area of Nanshan District, covering an area of 25,000 square meters. With a collection of around 200,000 book categories, it consists of humanity and social science bookstore, literature house, UReader book bar, popular science bookstore, thread-bound bookstore, adolescent bookstore and children's bookstore. Since its establishment 15 years ago, the book mall has been visited by 30 million visitors, sold 27.88 million books, hosted nearly 1,000 various activities and formed its own distinctive brands such as "Reading for All", "Children's Bookstore", "Little Volunteers for Civilized Reading", "Shenzhen University Student Culture Festival", "Book· Happy Saloon" as well as popular science base series activities. Meanwhile, taking the book business as its core, coupled with the "Book+" mode platform consisting of Huaxia Starlight Cineplex, Honven cultural products, book mall training, the mall advocates all people's engagement in reading to witness the cultural charm of Nanshan District.
Opening hours: Sunday to Thursday 9: 30-21: 30; Friday, Saturday, and holidays 9: 30-22: 00
Add: Crossroad of Nanhai Avenue and Haide 2nd Road (No. 2748, Nanhai Avenue)
Tel: 0755-86122001; 86122002; 86122020
Subway: Line 9 Nanshan Book City Station
Bus: 72, M562, M475 Shenzhen Book City Nanshancheng Station; 113, 19, 226, 328, 37, 70, 80, M106, M133, M222, M242, M398, M448, M475, M483, M506, M527, M539, N27, N8, NE30 Haiya Department Store Station
Shenzhen Book Mall Bao'an Branch 深圳书城宝安城
Located at Zhongxin Road, Xinqiao Street, Bao'an District, Shenzhen Book Mall Bao'an Branch covers a building area of 38,000 square meters and collects 200,000 kinds of publications. It is not only the 4th-generation super-large creative Book Mall jointly established by SPDG and Bao'an District Government, but also the first large-scale experience-type composite Book Mall program. In addition, Shenzhen Book Mall Bao'an Branch has set up a Maker Space and a Labor's Literature Creation and Incubation Center. Meanwhile, it will be devoted to creating a regional reading and creative culture demonstration platform and a book-purchasing experience center, and prioritizing its missions from various perspectives by making new value, new format, and new hope for life as its guiding ideas. Eventually, people's daily life will be linked up with their working style, and creativeness with the power of morality to satisfy the reader's appeal for reading.
Add: Jinyue Building, Zhongxin Road, Xinqiao Street, Bao'an District
Tel: 0755-23000666; 23011574
Metro: Airport Line Shajing Station Exit D
Bus: M333, 652, 780, 781, B774 Stop at Shajing Gome Station; Special Gaofeng Line 84, M292, B637, 650, 656, B774, 780, 781 Stop at Shajing Citizen Plaza Station; 650, 656, M284, M341, M413, Special Haishangtianyuan Tourist Bus Line 1, Line 2 and Airport Line 5 Stop at Shajing Wanjia Department Store Station
Wifi: Account / cmcc-basc
Password: log in by using phone number to gain identifying code
Shenzhen Book Mall Longgang Branch 深圳书城龙岗城
Shenzhen Book Mall Longgang Branch (hereinafter referred to as "Longgang Book Mall" ) is a major cultural project for benefiting the people under the background of balanced development of cultural and sports facilities inside and outside the original special zone of Shenzhen, which is aimed at comprehensively implementing the strategic plan of the Shenzhen Municipal Committee and the municipal government for establishing a city with strong culture.
Longgang Book Mall has a total floor area of about 35,800 square meters. It was officially opened on July 18, 2018. Longgang Book Mall is the fifth largest book city of Shenzhen Publishing and Distribution Group. It is the continuation and promotion of the brand of "Shenzhen Book Mall". The business orientation of the book mall is the main bookstores, featured catering, intelligent experience, original service, cultural incubation, film and television culture, leisure and entertainment, education and training, etc. Based on the characteristics of Longgang Book Mall, it forms a different business mode with the surrounding businesses, optimizes the "intelligent concept" and strives to build seven intelligent ecologies, four core systems and two auxiliary systems, and build Longgang Book Mall into a comprehensive reading culture complex in eastern Shenzhen and the first comprehensive multi-dimensional high-end intelligent book mall in China which integrates the seven functions of reading, sharing, communication, exchange, display, performance and innovation.
Add: No.8028-4, Longxiang Avenue, Longcheng Sub-District, Longgang District
Tel: 0755-28983001; 28903001; 28953001
Metro: Longgang Line Longcheng Square Station
Bus: 366, M239, M266, M268, M275, M320, M359, M367A, M367B, M501A, M501B, M502A, M502B, SHEN-HUI second line, SHEN-HUI third line A
Shenzhen Book Mall Longhua Branch 深圳书城龙华城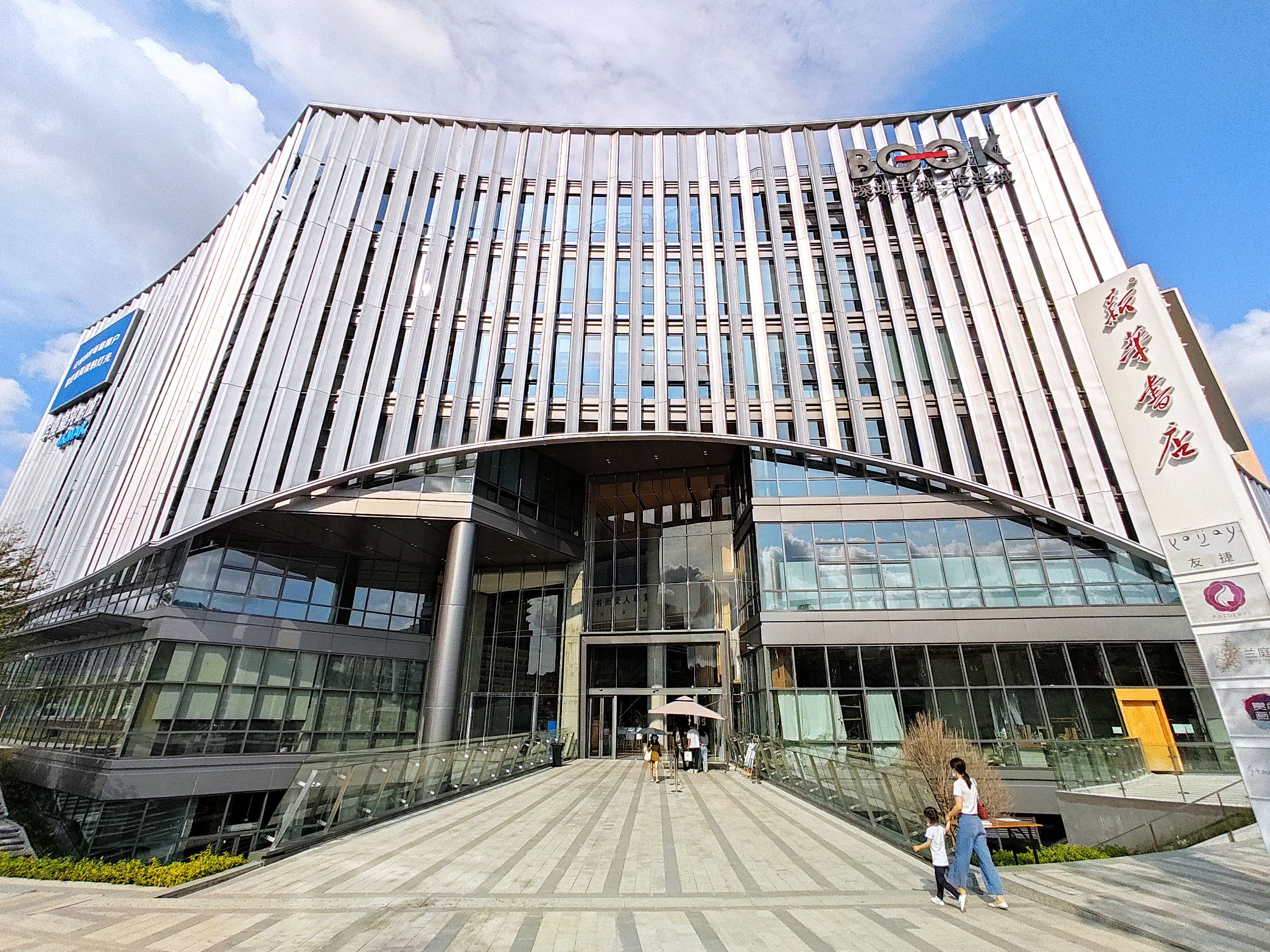 The Shenzhen Book Mall Longhua Branch is located at 1389 Meilong Road. With a floor space of 46,000 square meters, it is the second-largest book outlet in Shenzhen, following the CBD Branch of Shenzhen Book Mall. It is also the largest culture-themed complex and a cultural landmark in Longhua.

The area for book business is 29,500 square meters, taking up 40 percent of the total business area. The remaining 29,500 square meters are used for other auxiliary businesses and areas for public activities.
The new store features high aesthetics in architecture, high intelligence in service andmultiple functions.
The eight-facet architectural design signifies openness and inclusiveness. Some themed scenes introduce the aesthetics of ancient gardens into the reading space.
The greenery space in the store takes up 30 percent of the total. The outdoor landscapes and plants change with the rotation of the seasons. The designs include porous sunshields that let in more sunlight and rooftop soilless gardens that provide farming experiences with different types of fruits and vegetables. Notably, the store is Internet+IoT-based and provides expanded intelligent services by making use of big data. Smart technologies have been widely used in lighting, parking, facial recognition, public safety, reading guidance and management.
Add: 1389 Meilong Blvd., Longhua District, Shenzhen
Tel: 0755-28198986
Metro: Longhua Line Qinghu Station Exit D
Bus: M202, M391, M554 stop at East Longhua Culture Square; B730, M302, M424, M517 stop at North Longhua Culture Squar
---