Guan Shanyue Art Museum goes digital, launches new exhibitions
Updated: 2022-07-06 17:07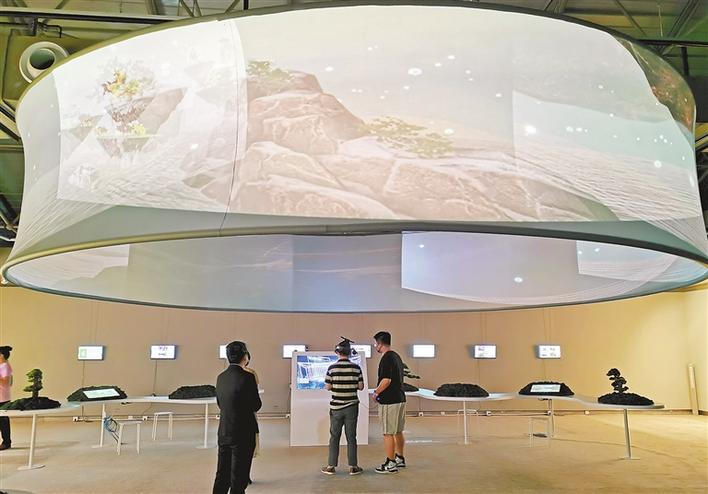 Virtual reality helps a visitor get an immersive experience at the "Infinite" exhibition at the Guan Shanyue Art Museum. Photos by Cao Zhen except otherwise stated
A visitor admires paintings at the "Cultural Inheritance" exhibition.
In line with China's commitment to develop the national cultural digitization strategy, a digital art museum was launched by Guan Shanyue Art Museum on June 23. The launch is part of a series of activities organized by the art museum to mark the 25th anniversary of its founding and the 110th anniversary of master Guan Shanyue's birth.

The digital art museum covers the same research, collection, education and exhibition functions as does the physical art museum, but the virtual museum is not just a storehouse for digitized collections. It also provides a community of activities, enabling visitors to share their experiences through various interactive functions.
Zhang Xinying, who is in charge of the digital art museum project, told Shenzhen Daily that in the future visitors can also get access to the art museum's free public educational materials and may even host virtual exhibitions in the digital art museum.
For researchers, the digital museum, which is also a database, is like a lab for data collection and management. "Research based on data is different from research based on physical objects. The digital art museum's database will extend our research because much data has been collected here, such as paintings' color spectrums and pixels, which could be utilized in many research works and may help researchers explore new academic topics," said Zhang.
Along with the launch of the digital art museum, the "Infinite — Guan Shanyue Art Museum Digital Humanities Research" exhibition has also opened inside the museum and runs through Aug. 21.
The exhibition displays how the digital art museum works and reviews the physical art museum's development in the past 25 years through video installations. Augmented reality and virtual reality tools help to explain artistic techniques and tell the stories behind Guan's paintings.
This year, the art museum will invite 15 digital art museum experts to discuss cultural digitization, as a national cultural big data system will be established by 2035 with the aim of comprehensively presenting Chinese culture and allowing people to access the results of digital cultural research.
When the Guan Shanyue Art Museum was founded in 1997, Guan donated 813 paintings and a batch of books, letters and documents. As a public cultural organization, the art museum has been engaged not only in the research on Guan's art but also on mid- and late-20th century Chinese fine art as well as contemporary art and design. Many of its academic research projects have won national awards and its free lectures and educational programs also enrich local residents' cultural lives.
Based on the art museum's collection and cooperation with other domestic cultural organizations, three more art exhibitions have also recently opened.
The "High Road Leads to the Cloud" exhibition runs through June 10, 2023 and features Jinggangshan-themed paintings created by Guan. Located in Jiangxi Province, Jinggangshan is the heartland of the early revolutionary activities of the Communist Party of China. Guan's paintings and some old photos show the magnificent revolutionary and cultural spirit of Jinggangshan.
The "Cultural Inheritance" exhibition is displaying 131 freehand-style oil paintings created by Chinese artists. "Throughout the history of Chinese artistic development, freehand-style oil painting has gradually evolved into an artistic spirit and notion, a unique aesthetic character of Chinese painting and a focal manifestation of China's artistic spirit," said Chen Xiangbo, director of Guan Shanyue Art Museum.
The art museum is also showcasing cultural and creative products inspired by Guan's paintings at the "Together to Create — Shanyue Inspiration Boutique Exhibition" running through Sept. 23.
Booking: WeChat account "gsyart"
Venue: Guan Shanyue Art Museum, Futian District (福田区关山月美术馆)
Metro: Line 3 or 4 to Children's Palace Station (少年宫站), Exit F
---