Reproduced ancient artworks on display | Until April 24
Updated: 2022-04-20 15:04
Elegant reproduced paintings of ancient masters, such as Zhu Da, Wu Zhen and Wen Zhengming, are on display at an exhibition at the Artron Art Center.
Also known as Bada Shanren, Zhu (1626-1705) was a monk and one of the most famous painters of the early Qing Dynasty (1644-1911). In his paintings, usually in ink monochrome, creatures like birds and fishes are given a curious, glowering, sometimes even perverse personality.
He used an abbreviated, wet style that, while deceptively simple, captures the very essence of the flowers, plants, and creatures he portrayed. He also painted landscapes in a dashing shorthand inspired by the 10th-century masters Dong Yuan and Ju Ran.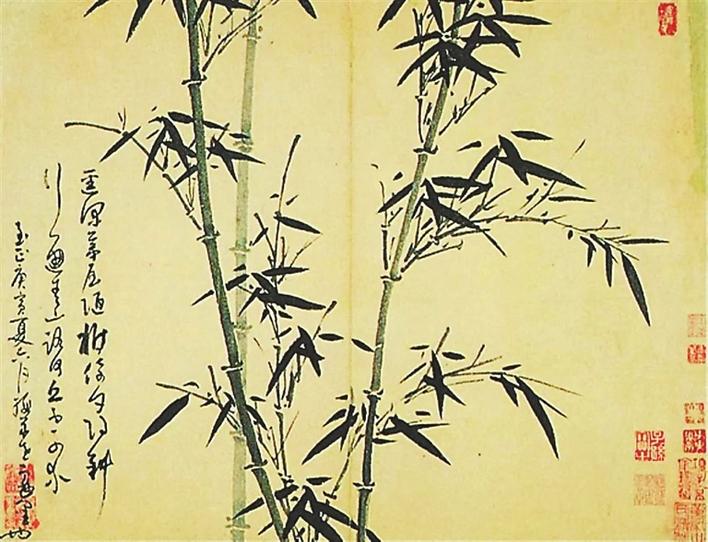 A painting by Wu Zhen. Photo from Artron Art Center's WeChat account
Unlike most Chinese painters, he does not easily fit into any traditional category; in character and personality he was the complete eccentric and "individualist."
Wen Zhengming (1470-1559) was a prominent painter, scholar and calligrapher during the Ming Dynasty (1368-1644). In his paintings, he employed simple compositions focusing on a single tree or rock. He was expert at calligraphy and also known as a collector and connoisseur, especially of calligraphy.
He followed no single style, but in all his paintings there is a spirit of studied antiquarianism and cautious consideration. In technique his paintings range from the highly detailed to the more freely washed.
Wen Chu (1595-1634) was a great-great-granddaughter of Wen Zhengming. Since childhood she was profoundly influenced by the Wen family's ink brushwork style, and practiced hard to capture it in her painting. After marriage, she sketched plants growing in the natural environment around her villa. With such diligence, she was able to render the subjects with skillful maneuvering of brush pens, and depicted flowers, grasses, and insects accurately and vividly.
Wu sought stylistic inspiration in the past (as did Ju Ran), but his paintings are not overwhelmingly determined by that desire. Rather, they are a combination of the new attitudes of the Yuan Dynasty (1271-1368) with sometimes conservative tendencies traceable to the Southern Song Dynasty (1127-1279). Wu is generally associated with landscapes, especially scenes of fishermen.
Dates: Until April 24
Tickets: 200 yuan (including a ticket and four 50-yuan coupons which can be used in the center)
Venue: Artron Art Center, Nanshan District (南山区雅昌艺术中心)
Metro: Line 2 to Qiaocheng North Station (侨城北站), Exit D
---