Artists present visual feast at Q Plex | Until April 15
Updated: 2022-04-07 16:04
A group of international graffiti artists, Andre Saraiva, Felipe Pantone, Vhils, Jan Kaláb, FAILE and the Miaz Brothers, are exhibiting their signature works at Q Plex in Nanshan District.
Saraiva is a Swedish-French artist best known for his work in graffiti. Before he began exhibiting his work in galleries, Saraiva was known as Monsieur A in graffiti communities. He was active in the early Parisian graffiti movement, alongside Space Invader and Zevs. He became identified with his iconic, cartoonish character: a round-headed figure with long limbs and a circle and a cross for eyes. His later works continued to employ line, text, and clean-edged geometry.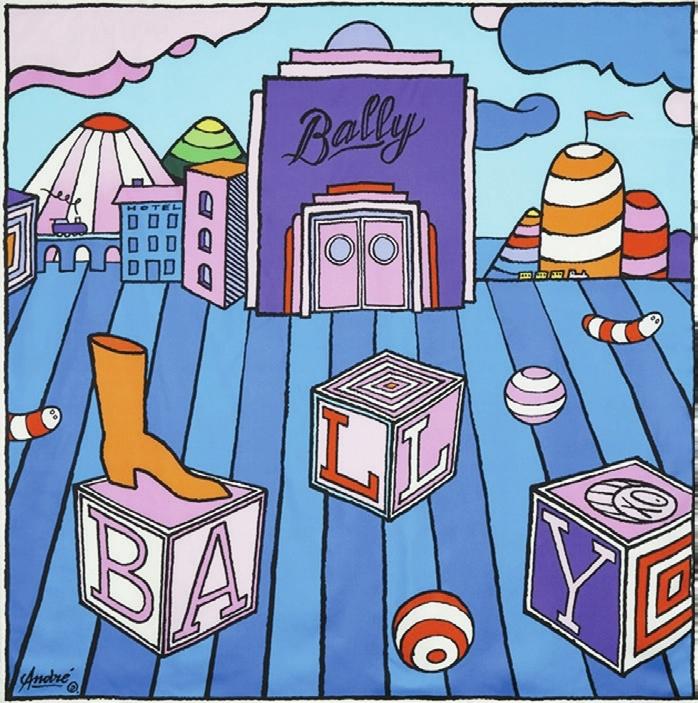 A Bally poster designed by Andre Saraiva.
Pantone is an Argentine-Spanish contemporary artist. He uses 3D-modeling software to evoke the glitches and grids of the digital landscape. He uses bold color and a mathematical appreciation of shade and shape as he generates optical illusions. He combines his prismatic, digitized forms with bold, graffiti-esque gestures to generate a visual language that embraces both the analog and virtual worlds, and critiques our dependence on the latter.
Portuguese artist Alexandre Farto has been interacting visually with the urban environment under the name of Vhils since his days as a prolific graffiti artist in the 2000s. His striking form of visual poetry has been described as brutal and complex, yet imbued with a simplicity that speaks to the core of human emotions.
Kaláb from the Czech Republic presents vibrant and dynamic compositions that meld the versatility of his canvas with the layered depth of sculpture. His pieces are harmonious and minimalist studies, immersive works that reflect his complex understanding of the fluidity in the signs and symbols of abstraction.
He used colorful squares and circles as an obsessive vocabulary for infinite variations around depth, time and motion. Playing with circles introduced organic imperfection and movement into his compositions.
FAILE is a U.S. street art duo comprised of Patrick McNeil and Patrick Miller. Since 1999, they have been creating kinetic, image-saturated paintings, prints, sculptures, and installations. Their street style features fragmented mash-ups of comic book and cartoon characters, advertising and propaganda slogans, bright patterns and colors, and historical and pop cultural references.
Roberto and Renato Miaz, aka the Miaz Brothers, turn portraiture on its head with their spray paint-on-canvas paintings, whose subjects are presented completely out-of-focus. Both classically trained artists, the brothers honed their approach to portraiture through years of experimentation and travel, during which they eschewed the gallery system, presenting their work in unconventional spaces like nightclubs and corporate buildings. Their experiences coalesced into a keen awareness of the transience of life, reflected in the people they paint, always just beyond our reach.
Dates: Until April 15
Hours: 10 a.m.-7 p.m.
Tickets: 88 yuan
Venue 1: CASHART, Q Plex, Nanshan District (南山区侨城坊现今艺术空间)
Venue 2: Gallery, 31/F, Artisse Place, Nanshan District (南山区深圳尔邸酒店式公寓31楼画廊)
Metro: Line 2 to Qiaocheng North Station (侨城北站), Exit D and then take a taxi
---