Zhou Li's artworks and collections on display | Until April 9
Updated: 2022-03-30 15:03
Paintings, sculptures and installations created by Shenzhen artist Zhou Li, as well as her collections of artworks by others, are on display at the "Unparalleled Collection Vol.1 Zhou Li" exhibition at W.ONESPACE.
Zhou uses mixed media, including oil paint, washes of ink, charcoal and cotton cloth. Her lyrical abstract paintings capture her acute sensory observations of the world: lightness and shadow, solidity and dissolution, the sense of being.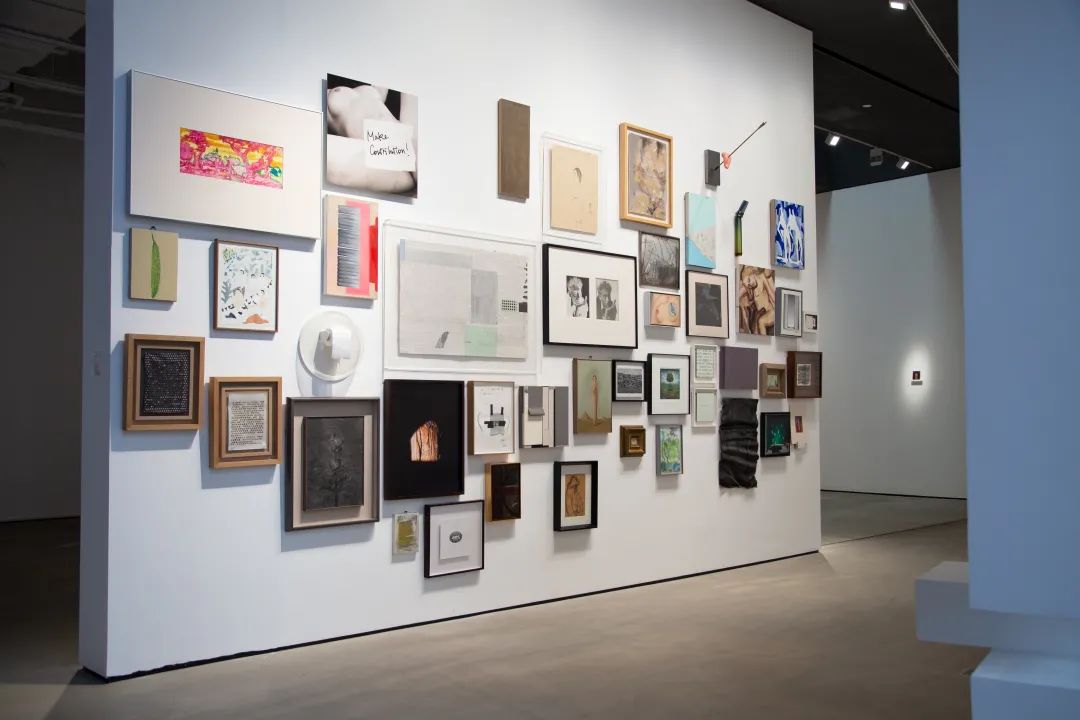 Artworks collected by Zhou Li are on display. Photos from W.ONESPACE's WeChat account
Building upon the history of European painting and the central tenets of traditional Chinese art, Zhou harnesses both traditions to develop a distinct painterly language. Her free-flowing charcoal lines intersect with circles of paint in a gauzy, gossamer palette; these delicate, layered forms appear to float in space and follow a complex compositional arrangement that extends beyond the surface of the paintings. Her paintings look towards nature as a starting point, particularly the mountainous terrains, but are imbued with a sense of much more: Every brush stroke on the canvas is driven by her persistent query and pursuit of being.
Zhou said she often uses the "window" as a metaphor for the way of viewing the world: Inside the "window" is herself and outside is the physical real world. So at this exhibition, she has brought for the first time her personal collections that previously have not been unveiled to the public. Taking real daily life as the context, she naturally rebuilds her "world outside the window," with works such as those by her students or artists that she admires (Liang Quan, Zhang Peili, Adria Sartore, etc.), furniture collections (from European antiques, Ming Dynasty-style furniture to modern designer chairs), as well as ornamental stones, Buddha statues and utensils.
Graduating from the Department of Oil Painting of Guangzhou Academy of Fine Arts in 1991, Zhou worked in France from 1995 to 2003 and is now a guest professor of the academy and art director of Boxes Art Space of OCAT Shenzhen and Boxes Art Museum in Shunde. She is also the director of No. 5 Studio in the Department of Oil Painting of Guangzhou Academy of Fine Arts and an academic committee member of Shenzhen's Pingshan Art Museum.
The exhibition is the first episode of W.ONESPACE's "n.one in a million" project which invites different art practitioners to display their creations and collections, aiming to reflect unique personalities and aesthetic interests from different perspectives, letting them reveal the balance between art and lives, and offering an angle that could be perceived to see the stories behind the artworks.
The project title "n.one in a million" is a play of words "one in a million." The project curators believe that there are countless wonderful things that we might encounter in addition to masterpieces.
"Collecting is a complex cultural phenomenon: In a sense it reflects economic behavior, artistic preference, cultural behavior and even the inheritance of social psychology. It further explores consumerism culture, art sponsorship and social lives. As a result, collecting as a behavior has also become a popular topic in many realms from history to economics. In the contemporary context, art and collection are always linked with lifestyles and often integrated into all aspects of collectors. These collections interweave and react with each other. They form a complete network of clues together to reveal the owner's aesthetic taste and attitude towards art and life," the project profile reads.
Dates: Until April 9
Booking: 183-2077-7930
Venue: W.ONESPACE, inside Sea World Culture & Arts Center, Nanshan District (南山区海上世界文化艺术中心内万一空间)
Metro: Line 2 to Sea World Station (海上世界站), Exit A
---