Two exhibitions at Great Art Space | Until April 17
Updated: 2022-03-07 16:03
Shui Zhenji
Shui Zhenji is presenting his oil paintings, mixed materials on paper and sculptures created last year and this year at his solo exhibition. Shui connects his life experiences with his subconscious world in his works and viewers can feel the hidden reality in his dreams.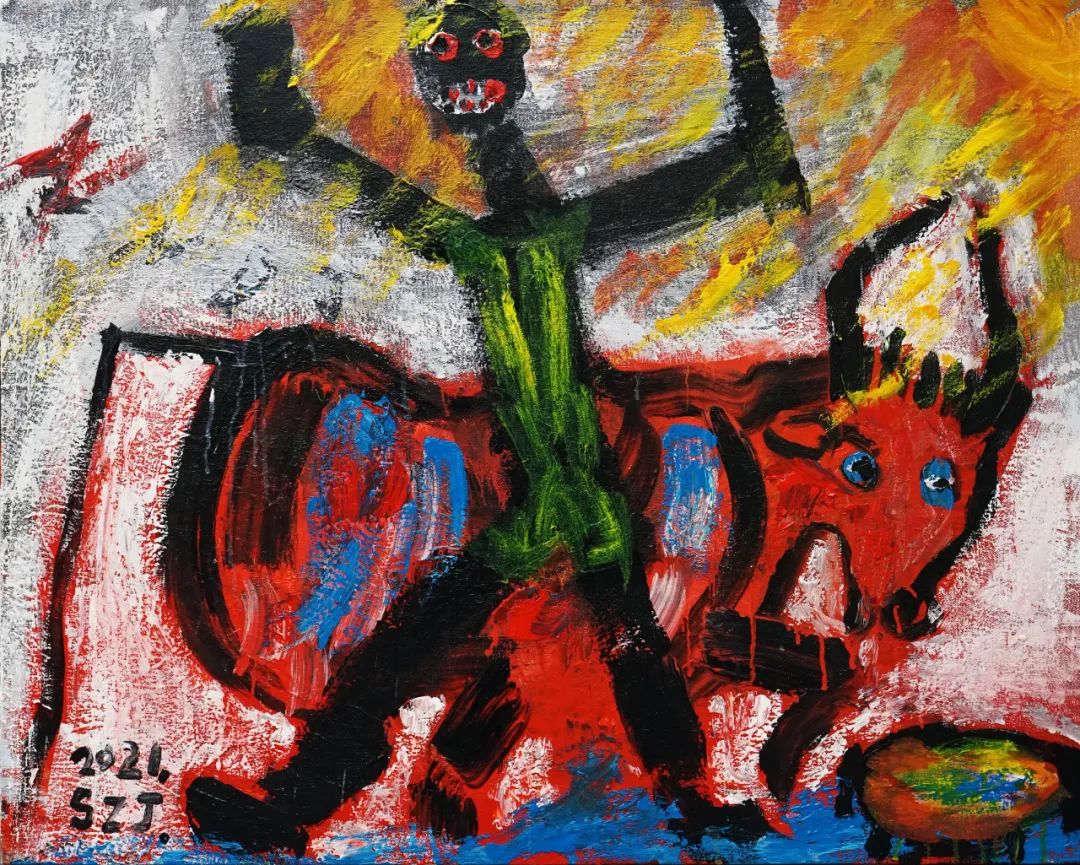 Shui's oil paintings are full of wild strokes and colors, with heavy pigment applied on grotesque figures and distorted images, creating a strong visual impact. Shui also explores different materials and forms of expression, such as mixed materials on paper and sculptures. His imaginative works present a calm but vivid picture with his unique insights.
Shui intends to reveal people's inner pain or something obscure, such as anxiety or emotions that people usually do not want to confront. He depicts the rough and blurred images of people, mountains, stars, beasts and alien creatures. Through these dream-like visions, Shui describes a doubtful, nostalgic, lonely and warm world in his eyes.
Chen Yongsheng
"Inside the Mountain," the title of Chen Yongsheng's painting exhibition, not only implies that the artist lives in the mountains, but also expresses that only by on-site research can you discover the interdependent relationship between the objects and the environment.
When Chen first visited Songshan Mountain in Henan Province, he was deeply attracted to it and later moved to the mountain. He once wrote in his profile: "I am a painter who loves mountains, paints mountains, lives in mountains, climbs many mountains and finally chose Songshan Mountain. Only if you are with the mountain day and night can the mountain become your other half. I am very curious about the feeling of having the mountain as my other half, which reminds me of a Hong Kong naturalist literature writer who often observes plants when they are in bloom, as if visiting an old friend."
Chen's energy and delicacy are vividly reflected in his landscape paintings. On his canvases, he depicts the sacredness and tranquility of Songshan Mountain with layered textures, and uses colors and lines to describe the artistic conception and joy in the forest. He expresses his soul and personality with free brush strokes in his paintings.
Dates: Until April 17
Hours: 1-7 p.m. (Mondays), 10 a.m.-7 p.m. (Tue.-Sun.)
Venue: Great Art Space, 1003 Shennan Boulevard, Futian District (福田区深南大道1003号宏艺空间)
Metro: Line 2 to Gangxia North Station (岗厦北站), Exit B
---