New media artworks by Cao Yuxi | Until March 28
Updated: 2022-02-10 17:02
Chinese artist Cao Yuxi, who has participated in the visual effect works for the opening ceremony of the Beijing 2022 Olympic Winter Games, is exhibiting his new media works at the "Time Wheel" exhibition in Shenzhen.
"Shan-Shui Paintings by AI" is a new series from Cao's studio and the series focuses on making impressive visual creations with the help of AI and presenting a relationship between technology and creative art.
"The Vast Land" is a data-visualized interpretation of Wang Ximeng's famous painting from the Song Dynasty (960-1279). In Wang's 11.9-meter-long landscape painting "A Thousand Li of Rivers and Mountains" on silk, mountain formations and groupings of infinite variety rise and fall between a cloudless sky and rippling water, extending in all directions as far as the eye can see. Cao combines the 900-year-old painting with data from the Air Quality Index of Beijing. The resulting new artwork is a powerful and poignant commentary on the "vast land" in which Cao resides.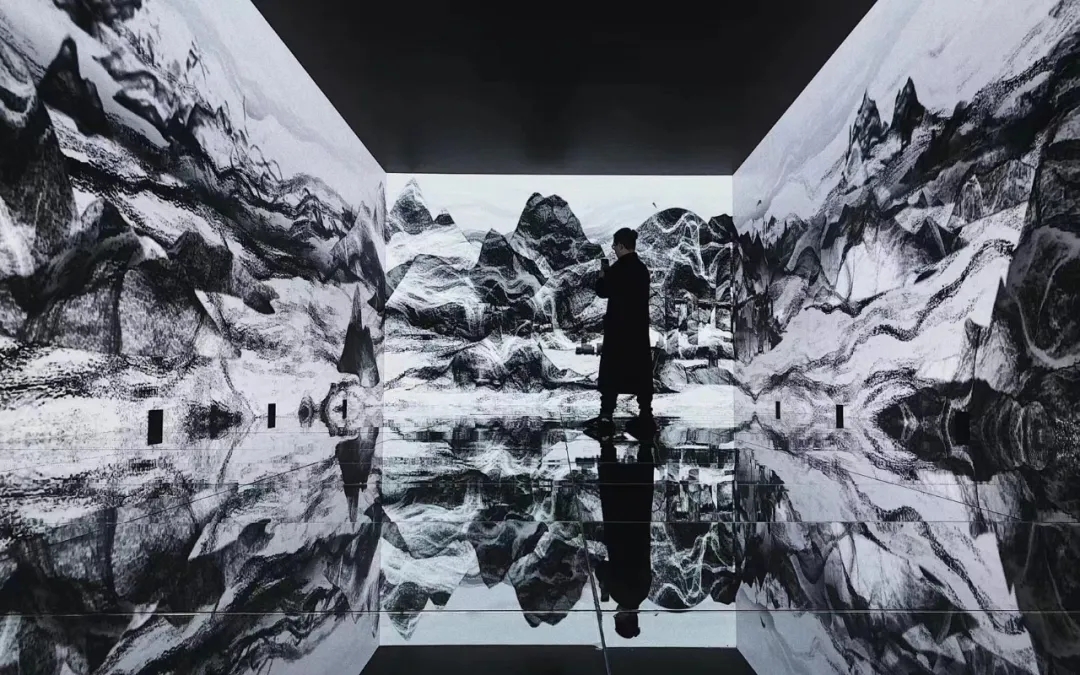 A visitor observes "Mo." Photo from LAN Gallery's WeChat account
"Mo" is an abstract work based on Brownian Motion, the random motion of particles suspended in a medium (a liquid or a gas). The character "mo" means ink in Chinese. The form of the project is highly mutable, manifesting itself in post-rendered video or real-time visuals with interactive applications in Apple OS or Web browsers.
Graduating from the Central Academy of Fine Arts in Beijing and the School of Visual Arts in New York City, Cao designs, collaborates and consults on projects across the spectrum of sound-visualization, programming and computing. His innovative approach to creating art and incorporating technology has enabled Cao to generate and shape numerous design projects including space design, new media art installations and public art in both China and the United States.
Dates: Until March 28
Hours: 10 a.m.-10 p.m.
Venue: LAN Gallery, 3/F, O'Plaza, Nanshan District (南山区欢乐海岸购物中心三楼蓝岸画廊)
Metro: Line 9 to Shenzhen Bay Park Station (深圳湾公园站), Exit E
---