Colorful events to mark Spring Festival at Mission Hills
Updated: 2022-01-27 15:01
Spring Festival is just around the corner. The Mission Hills Group will host a series of cultural activities to mark the most important traditional festival in China.
Visitors can experience the traditional folk customs at MH Maker in Longhua District and visit the intangible cultural heritage temple fair there.
The "sea of cherry blossoms" in its Shenzhen resort in Longhua District and the "ice and snow" attraction in its Dongguan resort in Tangxia Township will provide a strong festival atmosphere for citizens staying here for the Lunar New Year as the two resorts are just a 20-minute ride away.
At MH Maker, visitors with the help of handicraft masters there can experience traditional paper cutting and printmaking, write down their own Spring Festival couplets, and play traditional games like throwing pot, Luban lock and wood chair assembly.
Decorations with tiger designs shown at MH Maker in Shenzhen. Photos courtesy of Mission Hills Group
As the coming Lunar New Year is the Year of the Tiger, visitors can experience the speed of the tiger by playing with go carts in the circular track. The deer island circus carnival will be staged again on the first day of the Lunar New Year, with 20 cute deer wandering on the grass of the ecological sports park. Tourists can interact with the deer by enticing them with biscuits.
In addition, there will be many other cute pets such as ponies, lambs and rabbits.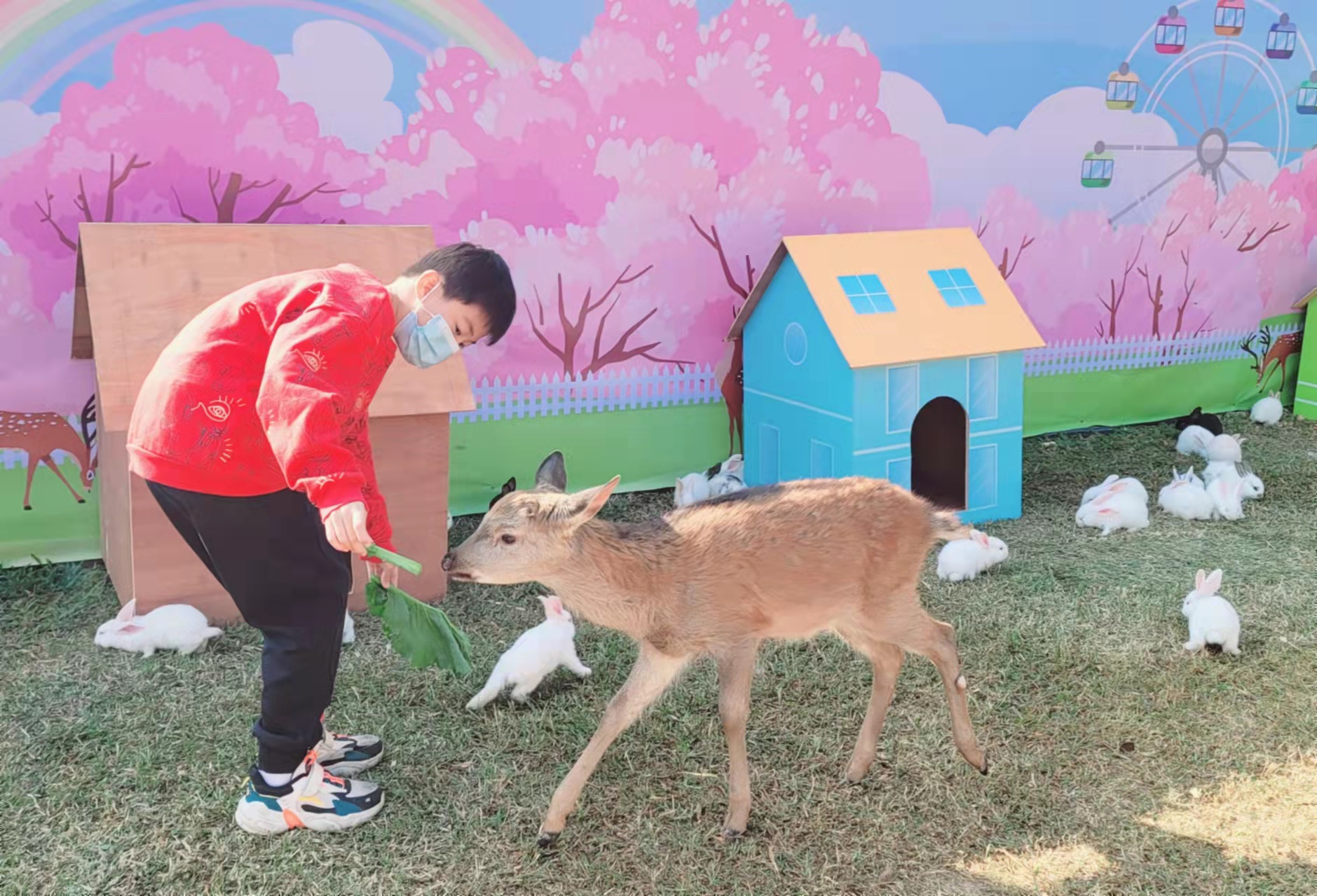 A boy plays with a deer at Mission Hills' ecological sports park in Shenzhen.
There are three or four circus performances on the central tennis court every day starting on the first day of the Lunar New Year. The "thrilling life and death wheel" and "flying car with fire wheel" are the must see programs, which are thrilling and exciting.
More than 1,000 cherry blossoms in full bloom will welcome tourists on the first day of the Lunar New Year. The theme scenic spots such as Cherry Avenue and Cherry Ocean will be excellent places for visitors to take photos. Visitors can also enjoy characteristic cuisines from different countries.
Mission Hills also launched its "ice and snow party" in its Shenzhen and Dongguan resorts. Tourists can sit in transparent tents, watching fluffy and white "snowflakes" floating on trees and grasslands. The "snowflakes" are made with safe materials to build a dream world for children.
---