Print exhibition celebrates Beijing Winter Olympics | Until Feb. 28
Updated: 2022-01-24 16:01
Co-organized by the Chinese National Academy of Arts and the China Printmaking Museum, "Focalization: 2022 Beijing Winter Olympics International Printmaking Exchange Exhibition" showcases print works inspired by the upcoming Winter Olympics. Created by contemporary domestic and international artists, the works not only embody the Olympic spirit but also express the artists' warm wishes for the Beijing event.
Fifty-three artists from 42 countries have been selected to exhibit their works that were created in their home countries, and then they collaborated via internet with the staff at the Guanlan Printmaking Base in Shenzhen to produce their prints. The exhibition uses printmaking aesthetics to show the power and charm of winter sports as well as the beauty of Chinese culture and world civilization.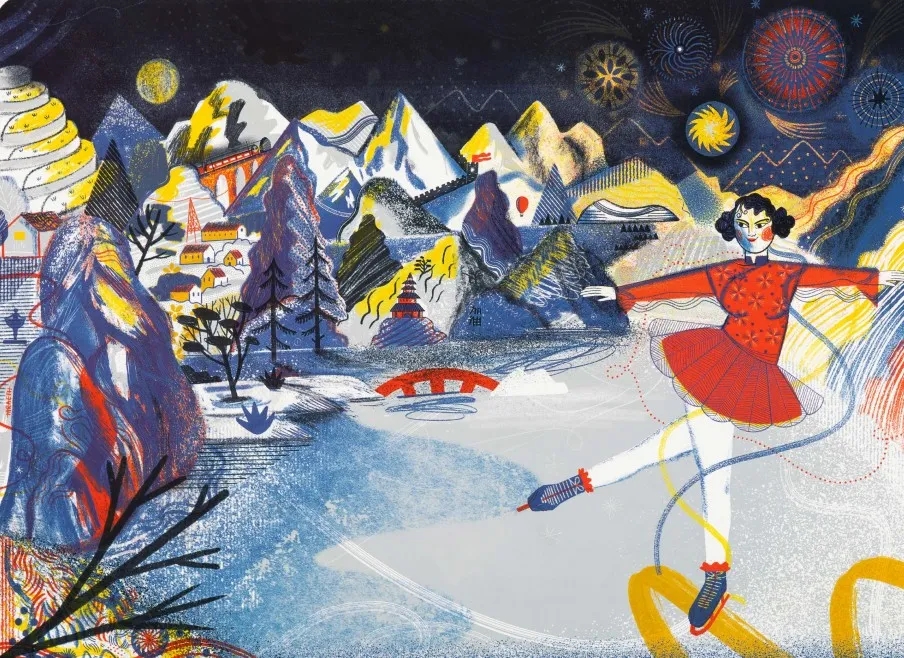 "Moonlight Skater" by Rhi Moxon.
In Australian artist Damon Kowarsky's "Olympic Reflection — Shougang," he depicts the Big Air Shougang beside coolant towers and their reflections in a lake in the old-steel-factory-turned-park, Shougang Industrial Park. The Big Air Shougang is a ski jump platform built for the Winter Olympics and it is the only snow event venue in downtown Beijing, awaiting freeski and snowboarding athletes to jump in the presence of Shougang Qunming Lake and the coolant towers.
British illustrator and printmaker Rhi Moxon portrays a female figure skater against a backdrop of Chinese mountains and traditional houses. The artist from Wales writes on her website that she creates vibrant, textured illustrations that are inspired by a love of travel, a playful curiosity towards the world, her obsession with printmaking, a collection of vintage children's books and Soviet-era designs. The years she spent living in Poland and later in Shenzhen have had a profound impact on her style and influences; in particular Polish poster art and the futuristic grandeur of Chinese urban landscapes contrasted to their rich ancient traditions.
Irish artist Stephen Lawlor's "Free Skater" features a classical oil painting style with a contemporary touch. A solemn atmosphere is created through the print's black background, and the skater's curved body and movement result in grace and balance. Polish artist Ewelina Kolakowska's "Speed Skating at the Beijing Winter Olympics 2022" conveys a great expressive dynamic. The skaters in the work unite perfectly, creating a strong visual representation.
Dates: Until Feb. 28
Hours: 10 a.m.-5 p.m., closed Tuesdays
Booking: WeChat account "GL_PRINTS"
Venue: China Printmaking Museum, Longhua District (龙华区中国版画博物馆)
Metro: Line 4 to Niuhu Station (牛湖站), Exit A and then take a taxi
---