Classic painting glitters in dance show | Oct. 21-24
Updated: 2021-10-19 18:10
The well-known "A Thousand Li of Rivers and Mountains" painted by Wang Ximeng (1096-1119) has inspired many cultural products, including a new dance drama, "Only Blue and Green," which will premiere in Shenzhen with four shows this week.
Wang's painting is stunning in its sweeping scale, rich coloration and the expressive minute details. On a single piece of silk, mountain formations and groupings of infinite variety rise and fall between a cloudless sky and rippling waters, extending in all directions as far as the eye can see. The painting is a representative of the "blue-green landscape" style. Azurite blue and malachite green dominate, with touches of pale brown.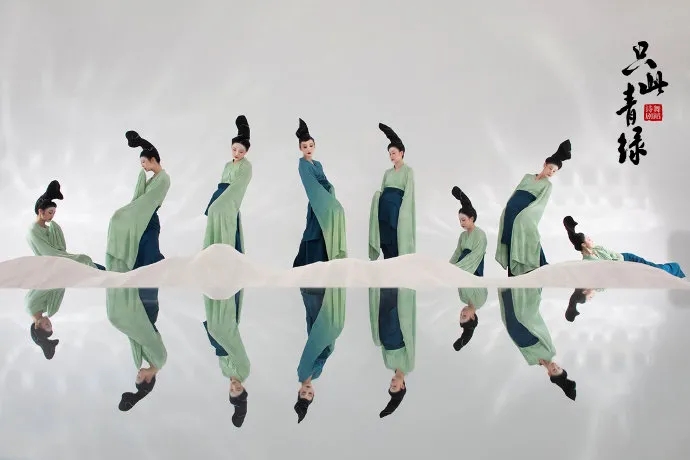 When the famous painting was showcased by the Palace Museum in 2017, choreographers Zhou Liya and Han Zhen didn't expect such an experience would lead them to create a dance show. Highlighting the aesthetics of traditional Chinese painting, the dance is the latest creation by the duo, the joint directors and choreographers of the popular revolution-themed dance drama "The Eternal Wave."
Han and Zhou had thorough communication with experts and researchers at the Palace Museum when choreographing the work. One researcher even inspired them to set a character as a guide in the dance.
In the dance, the story is set in two time zones: the modern days when the painting is about to be exhibited, and the ancient time when the teen painter Wang was about to finish his masterpiece. Having delved into the painting, a modern researcher walks into the heart of Wang. Sharing the same feeling with this talented young painter a thousand years ago whose life experience is recorded in a few words, the researcher figures out why the painting could be peerless for centuries, thereby understanding the emotional ties between national cultural relics and modern people.
Time: 8 p.m., Oct. 21-24
Tickets: 180-880 yuan
Booking: WeChat account "深圳滨海演艺中心"
Venue: Bay Opera of Shenzhen, Bao'an District (宝安区深圳滨海演艺中心)
Metro: Line 5 to Baohua Station (宝华站), Exit A
---