Understanding Long March through AR experience
Updated: 2021-07-15 17:07
In celebration of the 100th anniversary of the founding of the Communist Party of China (CPC) and to help people living in peacetime better understand the CPC history, the Nanshan Party-Building Park is providing an augmented reality (AR) service for visitors.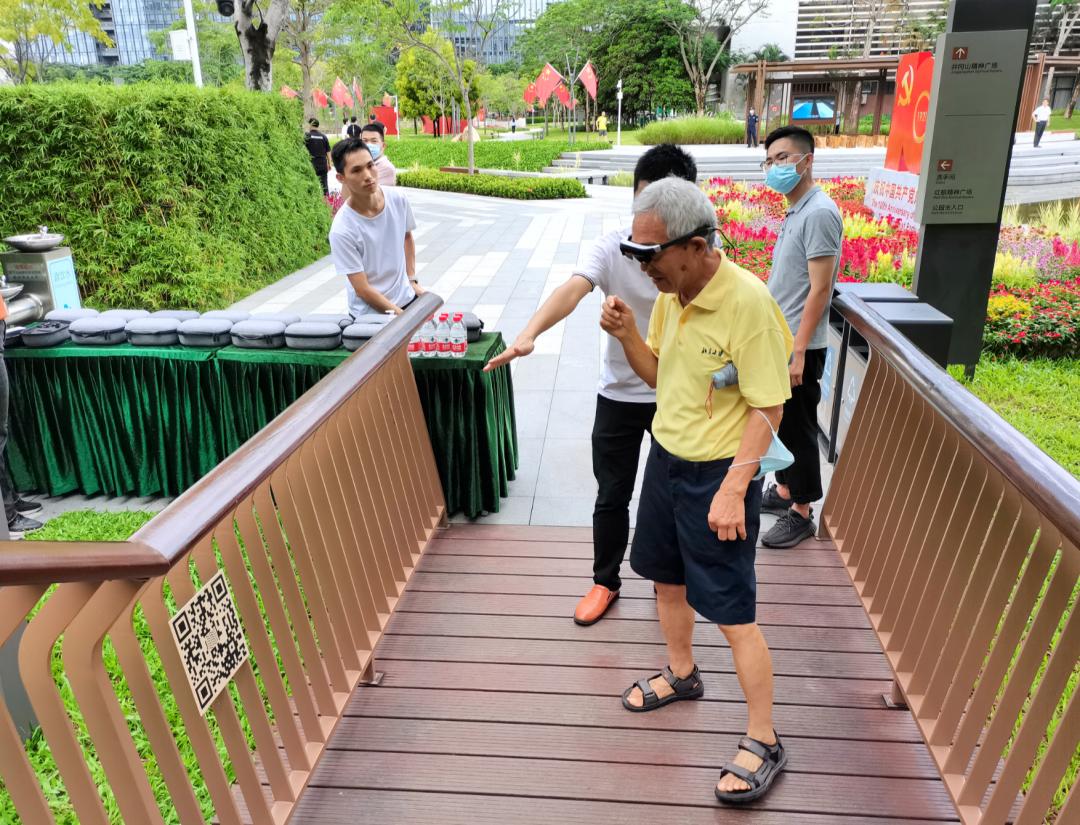 A visitor tries a pair of AR goggles in Nanshan Party-Building Park. Photos from Shekou News
Visitors can watch four immersive videos of several key moments during the Red Army's Long March. Overcoming incredible difficulties, the Red Army led by the CPC carried out a daring military maneuver from October 1934 to October 1936. It marched through raging rivers and crossed snowy mountains and dangerous marshes to break the encirclements of the Kuomintang and continued to fight against Japanese invaders. After experiencing more than 380 battles and passing through 700 counties in 14 provinces, the Red Army marched as far as 12,500 kilometers from Central and East China to their new base in the northwest. The Long March spirit is characterized by hard work, readiness to make any kind of sacrifice and a firm belief in communism and the ultimate victory of China's revolution.
The key moments in the four videos are:
Crossing the Chishui River
Mao Zedong employed a highly flexible warfare approach to get rid of pursuing enemies by crossing the Chishui River four times back and forth at the intersection of Guizhou, Sichuan and Yunnan from January to March 1935.
Crossing the Jinsha River
By crossing the Jinsha River in May 1935, the Red Army successfully shook off hundreds of thousands of Kuomintang soldiers who had been pursuing them.
Luding Bridge Battle
In May 1935 the Red Army soldiers climbed on the iron chains to take over the bridge in Sichuan Province after the enemy took away the planks.
Crossing the Dadu River
The Red Army started the river-crossing battle at Anshunchang, Sichuan Province in May 1935. In the hail of bullets, a team of 18 commandos crossed the river on boats and controlled the ferry site.
Climbing snowy mountains
Soon after passing the Luding Bridge in the Ganzi Tibetan Autonomous Prefecture, the Red Army soldiers climbed Jiajin Mountain, the first snowy mountain in the Long March. The mountain, which is more than 4,000 meters above sea level, has very thin air and capricious weather. From June 1935 to October 1936, the Red Army climbed 21 snow-capped mountains in the Long March.
Crossing grasslands
Located at the junction of the Qinghai-Tibet Plateau and Sichuan Basin, the Songpan Grasslands covers about 15,200 square kilometers at an altitude of 3,500 meters and experiences capricious weather. Sometimes, soldiers got stuck and disappeared in the mire. It took the Red Army seven days and nights to cross the grasslands.
Venue: Nanshan Party-Building Park, Kejizhong Road 2, Nanshan District (南山区科技中二路南山党建公园)
Metro: Line 1 to Shenzhen University Station (深大站), Exit A3
---