Fresh tunes at SZ Concert Hall | May 8
Updated: 2021-05-06 18:05
Conducted by Shenzhen Symphony Orchestra (SZSO) artistic director Lin Daye, the orchestra will collaborate with a group of young musicians from the Shanghai Conservatory of Music (SCM) to present a colorful concert this Saturday. The diversified program includes works by contemporary Chinese composers as well as Western classics and features vocalists, violin and piano soloists, and Chinese instrument players.
Chen Liya, a master's degree candidate majoring in zheng (Chinese plucked board zither), will perform the solo part of a concerto titled "Cang Ge Yin." Composed by Chen Zhe in 2014, the piece combines Chinese and Western music elements and gives full play of the soloist's virtuosity. With sounds mimicking spring, it's an ode to life and its vitality. Chen Liya has won multiple national awards, including a gold medal at the sixth "Dunhuang Cup" Chinese instrument competition in the professional group.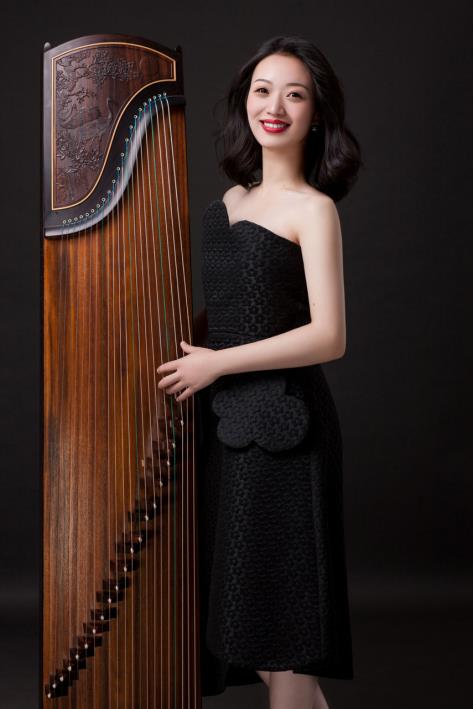 Chen Liya
Bamboo flutist Chen Hongxuan will lead in the concerto "Chinese Caprices No. 1: Oriental Image." Written by Wang Jianmin, this refreshing piece borrows largely from folk songs and local opera forms from south of the Yangtze River. The piece was originally dedicated to flutist Tang Junqiao, who considers Chen Hongxuan to be one of her prized pupils.
Liu Wenwen, the first doctoral candidate in suona (Chinese double-reed woodwind instrument) and one of the most influential young suona players today, will lead a concerto titled "Ode to Kirin." Using variations based on local opera and folk music melodies unique to Shandong Province, this piece pays tribute to kirin, a legendary Chinese creature thought to be auspicious. Liu has appeared at the New Year's Concert at the Sydney Opera House as a soloist under the baton of Tan Dun.
Hua Hui will perform as the soloist in the violin concerto "The Butterfly Lovers" by Chen Gang and He Zhanhao. Hua was the fourth-place winner at the 37th Premio Rodolfo Lipizer International Violin Competition, in Gorizia, Italy in 2018. He also won four special awards at the event, respectively for excellent performance, collaboration with the piano, interpretation of modern works and virtuosity.
Pianist Liu Kang, also a multiple international award-winner, will perform Liszt's "Piano Concerto No. 2 in A Major." Liszt was at his most demonic, self-promotional best in this concerto. Out front, the soloist is in total control while the orchestra is his backup band.
The three vocalists, namely Jin Yao, Xiao Xinyi and Chen Jingwei, will perform fan-favorite Chinese songs like "Liuyang River" and "I Love You, China" as well as the aria "Come Scoglio" ("I Am Like a Rock") from the Mozart opera "Cosi fan Tutte."
Time: 8 p.m., May 8
Tickets: 50-880 yuan
Booking: WeChat account "szyyt_piao"
Venue: Shenzhen Concert Hall, Futian District (福田区深圳音乐厅)
Metro: Line 3 or 4 to Children's Palace Station (少年宫站), Exit D
---