'Blossom' blooms at Arton Art Center | Until April 22
Updated: 2021-04-07 16:04
The Arton Art Center is exhibiting paintings by Chason Matthams, Ted Pim, Marisa Takal, Lao Jiahui, Yan Xinyue and Yuan Zeqiang at the "Blossom" exhibition.
Takal's works propose systems for navigating and understanding the world which we inhabit. Outside and indoors, external and internal, private and public, natural and urban, real and imagined — these are just some of the realms of our multifaceted and frequently confusing experiences. In these richly textured, schematic diagrams of consciousness, we see fractal, organic imagery and nesting inventories of formative memory.
"My work explores the ways people are both connected and disconnected from each other, where interior and exterior spaces come together and come apart. It's like a colorful depiction of our mental maps," said Takal.
Pim's works are darkly moody paintings, which have an incredible likeness to the intricate works of Rembrandt, Jacques-Louis David and other legends of the 19th century classical arts. Details in Pim's works act as a visual lure. His paintings are smudged, leaving a weathered look, yet still retain their beauty.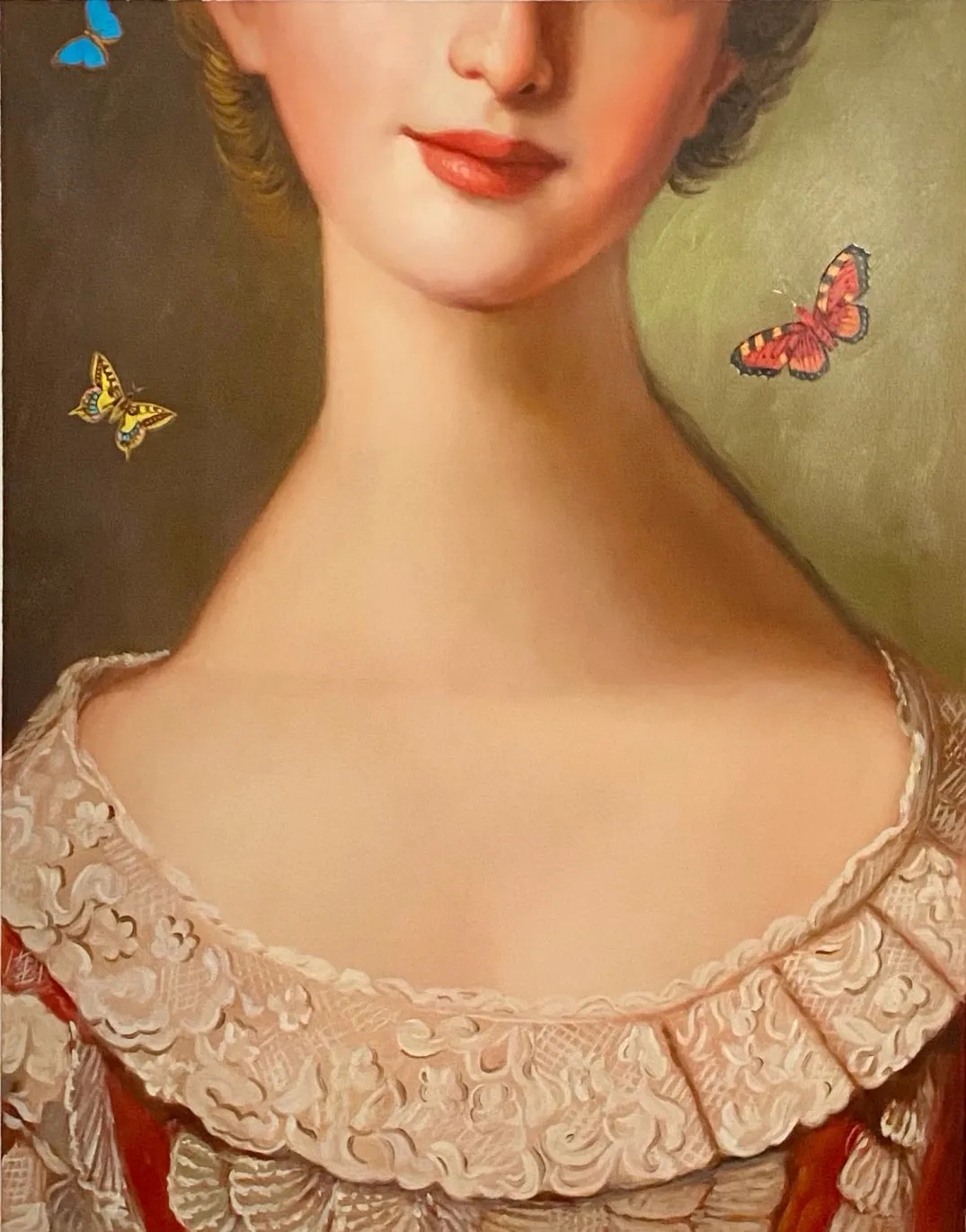 A painting by Ted Pim.
In Pim's paintings, bright and fluorescent flowers seem to be illuminated from within the black canvas. And once they have been impacted by the light, they start the process of melting down, being consumed, oozing their vitality out of the paintings. The darkly liquid moment on black canvas evokes an eerie feeling of something sinister, either imminent or just materialized.
From still-life compositions that include urban paint drips to employing his own unique take on rendering figures, Pim keeps the quality of old masterpieces while adding subtle and effective contemporary twists.
Yan is a Chinese artist who graduated from the Royal Academy of Fine Art Antwerp (Belgium) with a MFA in painting in 2018. Her works portray the tension in everyday life in the context of rapid urban development. She manipulates objects into different forms. Reality and fantasy are mixed on the same canvas, and the dynamic and the tranquil are blended, revealing the conflict between being a part of society and being an individual. The irony and humor in her paintings invite viewers to escape the solemnity of reality and enter a universe of imagination and possibilities.
A painting by Yan Xinyue.
Matthams creates paintings referencing memes, digital interfaces, Internet art, and generations of art history. He casts a wide net, reeling in images from all over the digital spectrum, their forced juxtapositions leading to pointed and humorous commentaries. His works perfectly illustrate the accelerated context collapse of the previous decade. It is from this collapse that Matthams rebuilds context and meaning.
Matthams' paintings of Greek gods gorgeously render some Neoclassical bust paintings in a soft magenta glow. The colors are a clear nod to vaporwave aesthetics, and in this way repurpose imagery from the ancients, to the Renaissance and to the Internet.
Dates: Until April 22
Hours: 9 a.m.-5:30 p.m., closed Mondays
Booking: WeChat account "ArtronArtCentre"
Venue: Artron Art Center, Shenyun Road, Futian District (福田区深云路雅昌艺术中心)
Metro: Line 2 to Qiaocheng North Station (侨城北站), Exit D
---