Thai artist Kitti Narod's paintings on display | Until Nov. 30
Updated: 2020-11-03 17:11
"Roles in Life," a solo exhibition for Thai artist Kitti Narod, is being presented at the We Gallery in the OCT-LOFT. Visitors should book their visit on the gallery's WeChat account "we-gallery86155405."
A graduate of the Poh Chang Academy of Arts at the Rajamangala University of Technology, Narod has exhibited extensively in Bangkok and internationally, including London, Bath, Edinburgh, Manchester, Dublin, Cork, Montreal, Melbourne, Montreal and Singapore.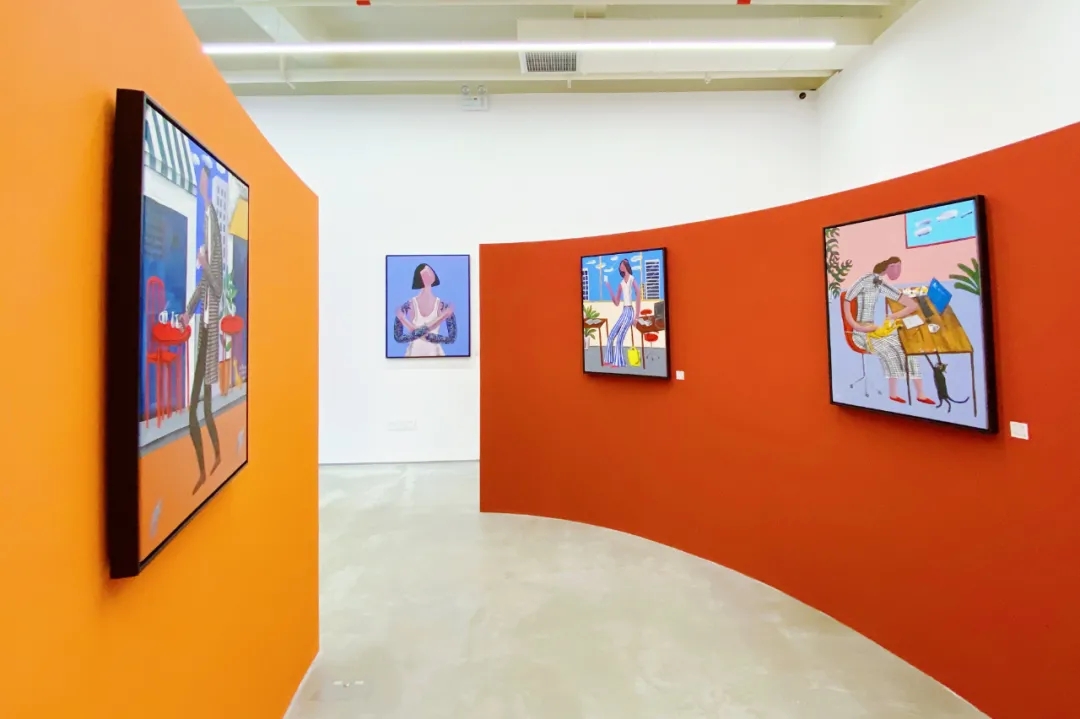 A scene in the exhibition. Photos from We Gallery's WeChat account
His work permeates with the essence of the vibrant natural world and tropical elements. He simplifies the background into completely flat blocks of pure color, laying the emotional foundation for the entire painting. By using pure colors and the flat paint application — the most frank and direct methods for depicting the forms and colors of the subjects — the artist places people, plants, animals, and everyday objects into an image one by one. Through the colorfully painted dense emerald leaves, crimson chairs, and brightly-colored clothing, we can see the artist's love for Matisse and South American art. In his composition and use of shapes, Narod searches for harmony among simple forms. All of these elements together meld to create light, joyful scenes.
Narod creates paintings that convey a sense of joy and optimism through the gentle and warm portrayal of daily life and human connectedness. In his paintings, everyone and everything exist together in a utopia. This notion may seem unrealistic to some, especially during an era of social division, but the artist's work tries to remind us to appreciate the simple pleasures and to pay attention to the mundane and basic details of daily life. The artist considers his works to be a meeting place for diversity, where everything physical and spiritual is equal.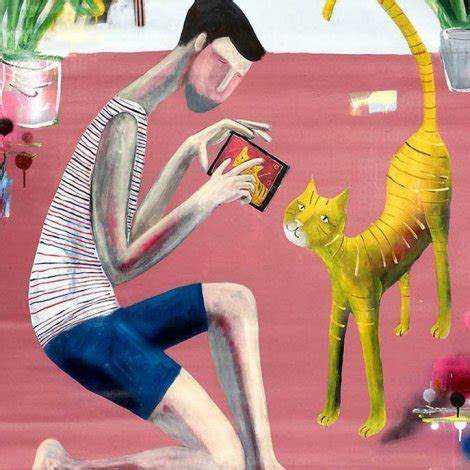 A painting by Kitti Narod.
"My art is about people. When I see human beings, I sympathize; we all share the same happiness and sadness," he says. "It's also about equality and space. Space means opportunity; we all need to share it equally, even if it sounds utopian. I don't want to preach or moralize; I just hope that when people see my paintings they feel more connected."
Occasionally, Narod also focuses on social-political adversities. The inconspicuous elements of "People in the Rain" are related to political issues in Southeast Asia.
Dates: Until Nov. 30
Hours: 11 a.m.-7 p.m. (Tue.-Fri.), 11 a.m.-8 p.m. (Sat.-Sun.)
Venue: We Gallery, Block A4, North Area, OCT-LOFT, Nanshan District (南山区华侨城创意文化园北区A4栋维格列艺术)
Metro: Line 2 to Qiaocheng North Station (侨城北站), Exit B
---