Guangming young art teachers' works on display
Updated: 2023-08-01 16:08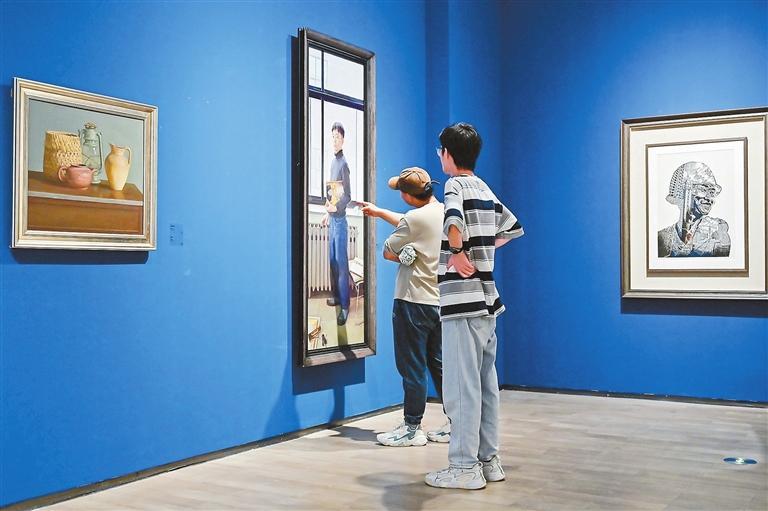 Visitors examine Wang Zhihao's portrait of a young man at the "To Beauty, for a Shared Future" exhibition at Guangming Culture and Art Center. Photos courtesy of the exhibition organizer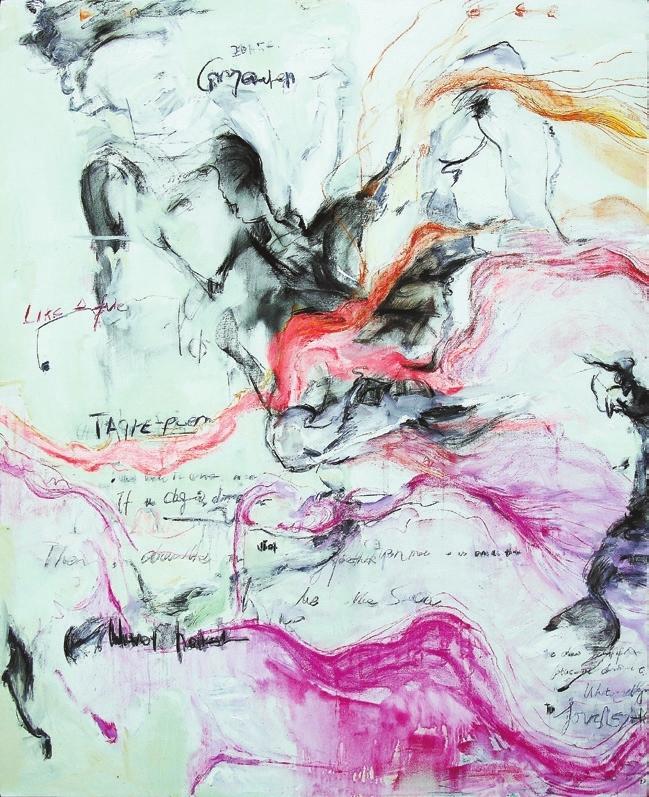 A painting by Chen Mengying.
Despite the demanding tasks at work, a group of young teachers in Guangming District have managed to keep their passion for art and their artistic pursuits alive.

Through July 30, the Guangming Culture and Art Center is hosting an exhibition entitled "To Beauty, for a Shared Future," which showcases 50 art pieces created by 33 young teachers from 20 primary and middle schools in the district. This collection stands as a testament to their vibrant creativity and unwavering dedication.
Feng Yingjie, president of the Guangming District Artists Association and co-curator of the exhibition, commended the efforts of the participating young teachers.
"They represent our future," he said, emphasizing that their commitment serves as a driving force in advancing the district's vision of becoming a prominent hub for cultural and artistic education. Then, he emphasized the significance of this fruitful collaboration between an art facility and schools.
The exhibition, hosted on the venue's fifth floor, is divided into five sections: "Stories of a New Town," "Sceneries on the Road," "Daily Life," "Traditions Reinvented," and "Life's Sparkles." The diverse range of artwork encompasses oil paintings, ink paintings, watercolors and gouaches, portraying the city's transformation, natural landscapes, facets of traditional culture, as well as the artists' introspective explorations of life's meaning.
Chinese lacquer and ink painting are among the few indigenous art forms that have been mostly preserved in a traditional manner. Archaeological discoveries of lacquerware shed light on the vibrant creativity, aesthetics and exquisite craftsmanship of Chinese artisans dating back centuries. The process of creating a lacquer painting is both time-consuming and labor-intensive, involving the layering of lac tree juice blended with pigments, a natural polymer, onto engraved patterns, followed by repeated polishing after each application.
Zhang Zhiruo and Liu Xianhui's lacquer paintings offer visitors an opportunity to closely examine this captivating ancient painting technique. Liu employs eggshell embedment to enhance the texture of his works. Zhang's "Childhood Memories" portrays an old building reminiscent of a factory dormitory, adorned with balconies painted in vivid red and bright blue. The artwork impresses with its meticulous attention to detail, suggesting that all childhood memories possess moments of radiance.
Wang Zhihao's portraits captivated many visitors, with his expert use of vertical and horizontal lines to create a clean backdrop. One of his notable works features a young man standing by a window, holding an album of Klimt's art in one hand; while on the chair next to him is a collection of Chinese ink paintings. His focused gaze suggests a passionate devotion to art, possibly reflecting the artist's own sentiments.
Chen Mengying contributed the sole abstract painting of the exhibition, using soft oil hues to express her emotions and offer a unique female perspective on the world, as stated by co-curator Zuo Qianqian.
Lu Ruowan's ink painting "City" portrays the lively atmosphere of Shenzhen, while Zhao Jinglong's "Holiday" provides an immersive escape into nature, both attracting a significant number of visitors.
The Guangming Culture and Art Center opened to the public in September 2020, and this exhibition represents its latest endeavor in its outreach efforts and collaborations with local schools. In September 2021, the center hosted an exhibition by approximately 30 local teachers that featured calligraphy, paintings, and sculptures. In November of that same year, a project was launched inviting students to take "fine arts lessons in the exhibition hall." Then, in April of the following year, the center signed agreements with three schools in Guangming to establish joint art education programs.
In 2021, Feng, also an education researcher, proposed a series of action plans to enhance art education in local schools, focusing on the utilization of professional art exhibition resources offered by museums and galleries.
"Art education plants the seeds of beauty in our children, nurturing their imagination, creativity and spiritual enrichment," he said.
Dates: Until July 30
Venue: Guangming Culture and Art Center, Guangming District (光明文化艺术中心)
Metro: Line 6 to Fenghuang Town Station (凤凰城站), Exit B
---