Crime drama to thrill audience at Poly
Updated: 2023-03-22 09:03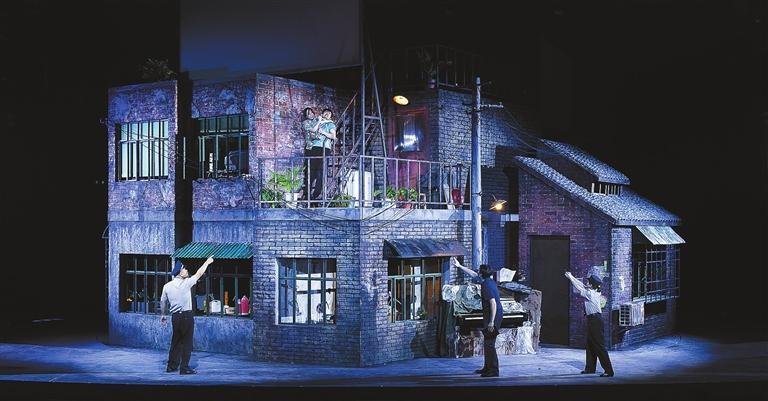 A scene from "Before Daybreak."Photo courtesy of the organizer
An award-winning Chinese stage drama popular among the young will be performed at Shenzhen Poly Theater on March 31 and April 1.
"Before Daybreak," produced by the Shanghai Dramatic Arts Center, is set in Southwest China's Chongqing Municipality
towards the end of the 20th century. A weird mother-and-daughter duo, living under the nose of suspicious neighbors, has covered up something for six years. Two murders now draw attention to their secret, threatening to completely upend their life. While the murderer is finally caught and brought to justice, another murder is being planned somewhere.
Penned by playwrights Xiao Shiyao and Ni Shanshan and directed by young talent He Nian, the play was nominated for eight awards at the Chinese Theater Awards in 2021 and went away with four, including best original play, best actress, best
supporting actress and best producer.
With actors speaking on stage the Chongqing dialect, the 120-minute play that premiered in September 2020 quickly became a hit and won rave reviews from critics and audiences alike.
Apart from strong acting from the cast, particularly praised is the stage set designed by Sang Qi and Wang Jiadi, which consists of a rotating three-storied building at the center of the stage. The flickering neon lights, a retro street-side store and desolate alleys immediately throw the audience back to the humid city at the turn of the century. A cameraman is stationed inside the building to capture the scenes live, to be projected onto a big screen and let the audience enjoy the actors' passionate performance up close.
A crime thriller that tries to stimulate the audiences' curiosity and get them involved in the plotline, the play also makes effort to evoke in them empathy for the characters. It is, in the words of the director, about love, that help us through the tough times of our lives. There is the love between mom and daughter, and also support that common people selflessly give each other. Xiao, one of the scriptwriters, said writing the story made her think a lot about her relationship with parents. "We all have issues with our parents at some point of our lives, and tolerance, which grows out of a willingness to reach out to and understand the other person, is key to redemption and reconciliation."
Time: 8 p.m., March 31, April 1
Tickets: 180-680 yuan
Booking: WeChat account "SZpolytheatre"
Venue: Shenzhen Poly Theater, Nanshan District (深圳保利剧院)
Metro: Line 2 or 11 to Houhai Station (后海站), Exit E
---