Ukiyo-e prints shown at Longhua Library
Updated: 2023-02-21 11:02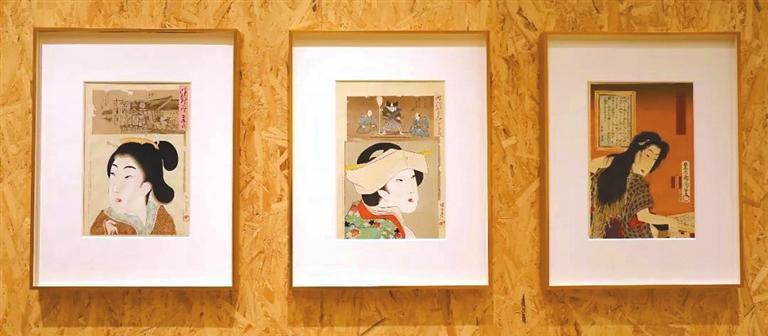 Japanese ukiyo-e prints are on display at Longhua Library. Photos from WeChat account "GL_PRINTS"
Locals can enjoy a free Japanese ukiyo-e print exhibition at Longhua Library, showcasing works by 16 masters, including Katsushika Hokusai, Utagawa Kuniyoshi, Utagawa Hiroshige and Kitagawa Utamaro. The works are from China Printmaking Museum.
Visitors can admire iconic pieces from Hokusai's "Thirty-six Views of Mount Fuji" series and some prints from Hiroshige's "Fifty-three Stations of the Tokaido" series. Both artists were prolific and their romantic landscape prints were a source of enlightenment for Impressionism in the West.
Hokusai's much-celebrated series "Thirty-Six Views of Mount Fuji" is a tour-de-force that established the popularity of landscape prints.
Hiroshige excelled in evoking a human touch to the landscapes, with their varying seasons, times of day and weather events, compared with Hokusai's bolder style.
Literally meaning "pictures of the floating world," ukiyo-e refers to a style of Japanese woodblock print from the Edo (1603-1868) to the Meiji (1868-1912) periods.
Portraits of theater actors and beautiful geishas and courtesans in fashionable accessories and garments, as well as pieces depicting erotic scenes and gorgeous landscapes, were made accessible to a mass audience in the form of inexpensive prints and illustrations.
Fine achievements by other ukiyo-e masters are also highlighted in the exhibition. Utamaro's signature prints were large-headed portraits of women. Kuniyoshi established his fame as the designer of warrior prints; he also produced landscapes, frequently utilizing Western perspective technique.
Dates: Until March 14
Hours: 9 a.m.-9 p.m., closed Mondays
Venue: Longhua Library, Longhua District (龙华图书馆)
Metro: Line 4 to Xikeng Station (茜坑站), Exit B (SD News)
---