Contemporary works by global artists shown in Dafen
Updated: 2022-08-29 10:08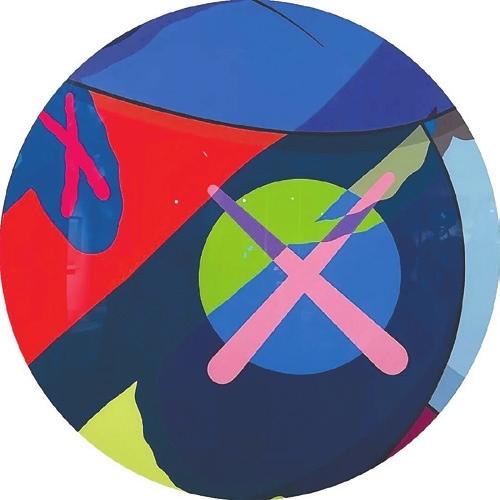 A painting by Kaws.
Sixty artworks by contemporary artists from around the world, such as Chiharu Shiota, Bobbie Burgers, Egami Etsu, Matias Sánchez, Yoshitomo Nara and Kaws, are on display at TNT Contemporary Art Space in Dafen Oil Painting Village.
Shiota interweaves materiality and the psychic perception of the space to explore ideas regarding the body and flesh, personal narratives that engage with memory, territory, and alienation. Her signature installations consist of dazzling, intricate networks of threads stretching across gallery rooms. Shiota represented Japan in the 56th Venice Biennale in 2015.
Burgers is interested in the process of decay, transformation, and metamorphosis in nature. Rendered in an abstract style, her floral compositions capture the objects' unique beauty and diverse color palette. Remarkable for their compositional rhythms, bold coloration, and sweeping gestural brush strokes, Burgers' paintings bring alive the fundamental quest to express something personal.
Etsu is celebrated for her visually captivating compositions. As a Japanese artist, she studied oil painting in the Central Academy of Fine Arts in Beijing. Her main interest is to investigate human instinct and the origins of languages, while examining the significance of communication.
Nara is a beloved Japanese artists of his generation. His widely recognizable portraits of menacing figures reflect the artist's raw encounters with his inner self. A peripatetic traveler, Nara's oeuvre takes inspiration from a wide range of resources — memories of his childhood, music, literature, studying and living in Germany. He is best known for his paintings of children and animals that appear both sweet and sinister.
A Spanish-based visual artist, Sánchez developed a deliberate and recognizable style of heavily textured works jammed with comic figurative elements, painted in a raw, expressionist technique. Sánchez's works feature grotesque creatures sourced from the constant flow of images, TV and tabloids. He focuses on their faces and exaggerated expressions rather than showing the whole figure, creating works which appear as the crowded scrapbook of a ferocious universe.
Dates: Until Sept. 8
Hours: 10 a.m.-7 p.m.
Tickets: 48 yuan (including a ticket and a cup of coffee)
Venue: TNT Contemporary Art Space, inside Dafen Oil Painting Village, Longgang District (龙岗区大芬油画村内TNT当代艺术空间)
Metro: Line 3 to Dafen Station (大芬站), Exit A1
---